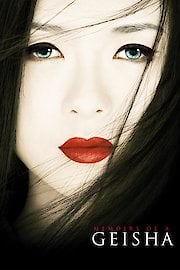 Watch Memoirs of a Geisha
"My world is as forbidden as it is fragile; without its mysteries, it cannot survive."
PG-13
2005
2 hr 25 min
54
Memoirs of a Geisha - 2005, is based off of the book of the same name. The story takes place in Japan, prior, during, and after Ward War II. The story follows the life of Chiyo, a daughter of a poor fisherman. After the death of her mother, Chiyo and her older sister, Satsu, are sold. The sisters are separated, and Chiyo is sold to a geisha house, while Satsu is sold into prostitution. After one brief encounter and a plan to runaway together, the sisters never see each other again. Chiyo was to be trained to be a great giesha, but after she breaks her arm trying to run away, she is demoted to a maid. There is another young girl who lives in the home with Chiyo, who everyone calls Pumpkin. There is also a top earning geisha, and two older women who play important roles in the story. The geisha is Hatsumomo, and she is very vain and very jealous of young Chiyo. She can see that in a few years time that Chiyo will be competition for her. Chiyo is desperately sad at her fate of being a maid while she watches Pumpkin go off to school to learn the arts of a geisha. However, soon her luck changes when a rival geisha of Hatsumomo's, Mameha. Mameha is regarded as one of the best geisha at the time. She offers to take Chiyo under her wing and sponsor her. The aunt and the grandma agree. Mameha's ultimate goal is to destroy the vindictive Hatsumomo. Chiyo does very well with her training even though Hatsumomo tries to sabotage her at every turn. Chiyo eventually becomes a geisha and her name changes to Sayuri. The movie follows her rise to fame, how the War changed everything, and how she ultimately finds meaning and hope in her life.