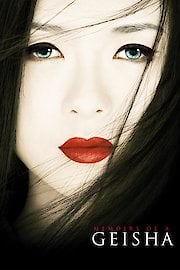 Watch Memoirs of a Geisha
"My world is as forbidden as it is fragile; without its mysteries, it cannot survive."
PG-13
2005
2 hr 25 min
54
Memoirs of a Geisha is a 2005 film directed by Rob Marshall that is based on the novel of the same name by Arthur Golden. The movie follows the life of Sayuri (Ziyi Zhang), a young girl who is taken from her impoverished fishing village in Japan and sold to a geisha house in Gion, Kyoto. There, she undergoes intense training to become a geisha and is eventually forced to compete with her fellow trainees for the attention and affections of wealthy clients. Throughout the film, Sayuri faces a number of challenges and obstacles as she tries to navigate the complex and often treacherous world of geisha culture. She must deal with jealous rivals, difficult clients, and the ever-present threat of poverty and destitution. She also begins to develop feelings for a handsome businessman named the Chairman (Ken Watanabe), but struggles to reconcile her own desires with the expectations placed upon her by her geisha training. Despite these difficulties, Sayuri is capable and determined, and she manages to succeed as a geisha through sheer force of will. She is supported in this journey by a number of other characters, including Mameha (Michelle Yeoh), a successful geisha who takes Sayuri under her wing and helps her navigate the politics and personalities of Gion. Together, Sayuri and Mameha work to establish Sayuri as a sought-after geisha and build her reputation within the community. One of the most striking aspects of the Memoirs of a Geisha is its beautiful and immersive setting. The film takes place in the pre-World War II era of Japan, and the attention to detail in the costumes, makeup, and set design is truly impressive. From the elaborate kimonos worn by the geishas to the delicate gardens and tea houses of Gion, every aspect of the film feels like a carefully crafted work of art. The performances in Memoirs of a Geisha are also noteworthy, particularly that of Ziyi Zhang as Sayuri. Zhang is captivating onscreen, and she manages to convey a range of emotions and experiences without ever seeming overwrought or melodramatic. Ken Watanabe is similarly excellent as the Chairman, bringing a quiet intensity to his role that makes the moments he shares with Sayuri particularly compelling. Michelle Yeoh, meanwhile, provides a strong counterbalance to Zhang's character, imbuing Mameha with a sense of worldly wisdom and grace that makes her a compelling mentor figure for Sayuri to emulate. Despite all of its strengths, the film has been criticized in some quarters for its romanticized approach to geisha culture. Some have argued that the movie perpetuates stereotypes and misconceptions about what geishas are and do, and that it glosses over some of the darker aspects of the profession, such as the exploitation of young girls and the prevalence of sexual harassment and abuse. Others have criticized the casting choices, noting that all three of the lead actresses are Chinese rather than Japanese. Ultimately, Memoirs of a Geisha is a visually stunning and emotionally satisfying film that manages to tell a complex and nuanced story about a world that many Western audiences may not be familiar with. It is an ambitious and thought-provoking work that raises challenging questions about gender, power, and identity, even as it takes us on a journey through one woman's remarkable life.