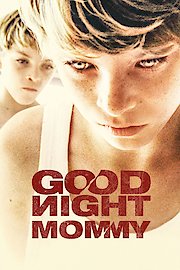 Watch Goodnight Mommy
"A mother should look out for her sons."
R
2015
1 hr 39 min
81
When a mother returns home to her two loving twins in the Austrian countryside after recovering from a horrific auto crash, her children begin to suspect that something is awry due to her behavior. The mother, covered in bandages, begins to exhibit behavior that becomes stranger and stranger as the film progresses. The mother orders the children to exclusively play outside and imposes a Draconian rule of silence at all times; furthermore, the mother seems to ignore one of the children altogether and does not want visitors during her time of recovery. The twins begin to suspect that the person underneath the bandages is not their mother at all, but rather an impostor who is serving to trick the children into believing that she is their mother. When the two children discover a photograph of their mother in younger days with a woman who looks nearly identical and is outfitted in the same clothes as her, the children begin to believe that this impostor is a heretofore unknown aunt that is attempting to undermine their family relationships. This Austrian horror film is a truly terrifying meditation on humanity, identity and the power of family. The relationship between children and mother is examined in such a way that truly poses questions on the integrity of the the traditional family, altogether. As the children grow increasingly suspicious of their mother, the true horror begins and neither side of the family is safe from the horrors that they ultimately inflict on one another.