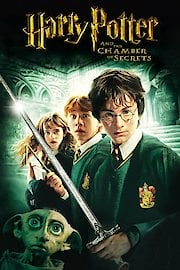 Watch Harry Potter and the Chamber of Secrets
"Hogwarts is back in session."
PG-13
2002
2 hr 41 min
63
Harry Potter and the Chamber of Secrets is the second chapter of Harry Potters journey to becoming a wizard. After his parents were murdered by an evil wizard named Voldemort he was forced to stay with his uncle Vernon and aunt Petunia. The Dursley's kept him locked in his room and forbid him from talking to his friends and going to Hogwarts the school of Witchcraft and Wizardry. On the night of Harry's birthday, Harry returns to his room to find an elf that warns Harry not to go back to Hogwarts. But that night Ronald Weasley and his brothers show up and rescue Harry to take him to Hogwarts. Harry Potter goes to Hogwarts to attend classes and practice Quidditch. His school year is than interrupted by a terrible evil that wreaks havoc upon Hogwarts. Harry feels it is his job to solve the mystery behind the Chamber of Secrets before anyone is hurt. Harry, Ron, and Hermione aren't sure what they are getting into but it may be more than they can handle alone. Even with their friends and knowledge from their new classes, conquering this new evil may be harder than they thought. The evil villain is bigger and more evil than ever before. This movie shares the tale of three friends conquering the forces of evil and shows that anything is possible if you put your mind to it. Harry Potter is a series any age can enjoy. With many twists and puzzles this series keeps you on your toes and excited for what could happen next. It can be funny, it can be scary, and it can also be moving at times. The graphic arts behind the spells and background in the movie are beautiful and amazing. With new characters and new enemies this story gets more exciting with every minute that passes.