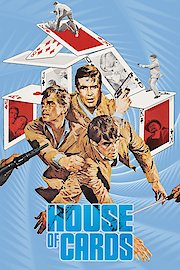 Watch House of Cards
"The Blood-Hot Diary of the People Who Fight the War of Intrigue Across the Face of the Globe!"
House of Cards, is a movie about a woman, Ruth Matthews, whose husband suffers a fall at a dig site and her daughter Sally takes her fathers death in a very peculiar way. Sally is mentally devastated by her fathers death and doesn't know how to reach out in reality for help. Ruth decides to move the family out into the country, thinking it will help her daughter recover from this traumatic event. Sally's brother Michael adjusts just fine to a new life away from the bad memories. However, Ruth is disturbed by her daughter's behavior and she believes that her daughter suffers from autism. As Sally's issues get worse, Ruth is made by the court to take her daughter to see Jake, a doctor in the field of autism. Jake tries everyday therapy to bring her out of this mental coma she has surrounded herself in. Not knowing how delicate her mental state is, Jake's therapies do not work and he must try an alternative route. Her mother decides this isn't enough and tries to conquer Sally's problems herself. She wants to understand her daughter's mental distress and so she tries to get into Sally's psyche to understand the unusual things she says and does. By doing this, she risks her own mental health, to try and regain a normal life for her daughter. Ruth wants to understand the meaning and reality behind why Sally built a house of cards. This could be a silent creative world Sally has created so she doesn't have to deal with the pain of losing her father. Jake or Ruth must shake her mentality and help her save the life she once had before she becomes a part of the world unknown to the rest of us.