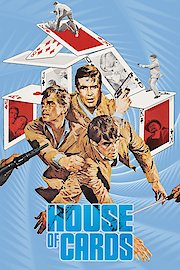 Watch House of Cards
"The Blood-Hot Diary of the People Who Fight the War of Intrigue Across the Face of the Globe!"
House of Cards is a 1968 movie directed by John Guillermin and is based on the novel of the same name by John Osborne. The movie stars George Peppard, Inger Stevens, and Orson Welles in the lead roles. Set in London during the Swinging Sixties, House of Cards tells the story of a wealthy and ambitious businessman, Henry J. Cardwell (George Peppard), who runs an advertising agency. Cardwell is a slick and charming man who will stop at nothing to get what he wants. He is married to Karen Nash (Inger Stevens), a beautiful and talented artist who feels trapped in her marriage.
The plot of House of Cards revolves around Cardwell's attempt to take over a rival advertising agency by any means necessary. He sets his sights on the agency's owner, Charles Hume (Orson Welles), who is a respected and well-connected figure in the advertising industry. Cardwell uses his charm, wit, and cunning to try and manipulate Hume into selling his agency to him.
As Cardwell's schemes become more and more audacious, he risks losing everything he has worked so hard to achieve. Along the way, he crosses paths with a host of colorful characters, including the eccentric artist Jackson (Keith Michell), the enigmatic Isobel LeDuc (Trevor Howard), and the seductive Paula Reid (Susannah York).
The film is a study of ambition, greed, and the corrupting influence of power. George Peppard's performance as Cardwell is an excellent portrayal of a man who is determined to succeed at any cost. He is charming and charismatic, but also ruthless and cold-hearted. Inger Stevens as Cardwell's wife Karen delivers a nuanced and powerful performance, conveying the conflicting emotions of a woman torn between her love for her husband and her own desires.
Orson Welles, although not having a significant amount of screen time, brings his trademark gravitas to the role of Charles Hume. His scenes with Peppard's Cardwell are some of the film's most memorable moments. Keith Michell turns in a highly entertaining performance as the eccentric artist Jackson, who provides some much-needed comic relief from the film's darker themes.
House of Cards is a visually stunning film, capturing the vibrant and colorful atmosphere of 1960s London. The cinematography is exceptional, with Guillermin making great use of the city's landmarks and locations.
Overall, House of Cards is a gripping and character-driven drama that is highly recommended for fans of classic cinema. The film is a potent reminder that the pursuit of power and success can come at a high price, and that the most meaningful things in life cannot be bought or sold.