How to Be a Latin Lover
"Fifty shades grayer"
In this comedy, a middle-aged man is unexpectedly dumped by his wealthy older wife. He moves in with his sister and her son and immediately sets about concocting a scheme to attract a wealthy new (but old) companion. The film stars Eugenio Derbez, Kristin Bell, Rob Lowe, Salma Hayek, and Rob Riggle.
|
2017
|
|

/

10
Cast

Studio

Language

English
More Like How to Be a Latin Lover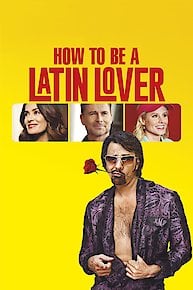 How to Be a Latin Lover News
Salma Hayek Says Daughter Could Have Been at Manchester Concert
The actress says her 9-year-old would have gone to Ariana Grande's concert, which was the site of a terrorist attack on Monday, if it had been in London.
'Latin Lover' Gets a Head Start on 'The Circle'
The battle between two new movies was hot on Thursday night.
Watch How to Be a Latin Lover Trailer