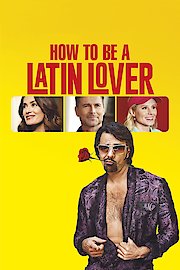 Watch How to Be a Latin Lover
"Fifty shades grayer"
PG-13
2017
1 hr 55 min
54
How to Be a Latin Lover from 2017 is a comedy film that follows the story of Maximo, played by Eugenio Derbez, who has been a gigolo for 25 years and is now kicked to the curb by his 80-year-old millionaire wife for a younger man. Suddenly, Maximo is left penniless and forced to move in with his estranged and recently-remarried sister, Sara, who is played by Salma Hayek, and her young son, Hugo, played by Raphael Alejandro.
Maximo's goal is to secure another rich older woman, but he soon realizes that he may actually care for his family and the people around him. Along the way, Maximo discovers that money doesn't buy everything and that relationships, love and kindness are truly what matter most.
Throughout the movie, Maximo's jokes and experiences as a Latin lover add an extra layer of humor to the story, often poking fun at his own cultural stereotypes. Eugenio Derbez's performance as Maximo is particularly noteworthy, as he brings a unique charm and charisma to the role that makes it easy to root for him despite his many flaws.
Salma Hayek and Raphael Alejandro also give strong performances, especially in their scenes with Derbez. As Sara, Hayek is both tough and loving, playing a straight-laced character who balances out Maximo's outlandish behavior. As Hugo, Alejandro brings a sweetness to the film, particularly in his interactions with Maximo. Their budding relationship is one of the highlights of the movie.
Aside from the main cast, How to Be a Latin Lover features a supporting cast of recognizable faces, including Rob Lowe, Raquel Welch, Kristen Bell, and Rob Riggle, who all add extra comedic support to the film.
The film is directed by Ken Marino and written by Chris Spain and Jon Zack. Marino's experience in comedy is evident throughout the movie, as he expertly balances the humor and heart of the story.
The visually-striking scenes are also notable, particularly the film's several dance numbers. The soundtrack is peppered with popular Latin music and includes some covers of recognizable songs such as "True" by Spandau Ballet and "Girls Just Want to Have Fun" by Cyndi Lauper.
Overall, How to Be a Latin Lover is a lighthearted and entertaining movie that offers a fresh take on the romantic comedy genre. It boasts a talented cast, witty writing, and memorable cinematography, making it a fun and heartwarming watch for audiences of all ages.
How to Be a Latin Lover is a 2017 comedy with a runtime of 1 hour and 55 minutes. It has received moderate reviews from critics and viewers, who have given it an IMDb score of 6.0 and a MetaScore of 54.