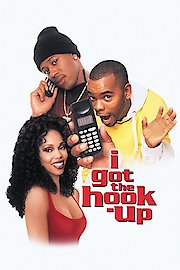 Watch I Got the Hook Up
"A truckload of cell phones... turns into a boatload of cash!"
R
1998
1 hr 33 min
I Got the Hook Up is a 1998 comedy film that follows the journey of two best friends, Black and Blue, as they try to make a quick buck by selling faulty cellphones in their neighborhood. The movie is directed by Michael Martin and stars Master P, Anthony Johnson, and Gretchen Palmer in lead roles. The story revolves around Black and Blue, two small-time hustlers who get their hands on a shipment of faulty cellphones. To make a quick buck, they decide to sell the phones on the streets of their neighborhood. The phones, however, turn out to be hot commodities as everyone, including a local gangster, a corrupt cop, and even a group of white collar criminals, wants to get their hands on them.
As Black and Blue try to evade the dangers that come with their newfound success, they also have to deal with their own personal issues. Black wants to settle down with his girlfriend, but is constantly distracted by his love for money and women. Blue, on the other hand, is struggling with his addiction to drugs and trying to keep his addiction under control.
Throughout the movie, Black and Blue face numerous challenges and close calls, but their bond as best friends is what keeps them going. They also receive help from a group of misfits, including a wheelchair-bound tech genius, a religiously devout man, and an old man with a love for gambling.
The movie is filled with hilarious moments and witty one-liners, but it also tackles serious issues like police corruption, drug addiction, and poverty in urban communities. Master P, who also produced the film, delivers a solid performance as Black, while Anthony Johnson shines as the lovable and comical Blue. Gretchen Palmer is also great as the tough-as-nails love interest of Black.
Overall, I Got the Hook Up is a fun and entertaining movie that is worth watching for its humor, great cast, and unique story. It may not be a cinematic masterpiece, but it is definitely a cult classic and a must-watch for fans of urban comedies.
I Got the Hook Up is a 1998 action movie with a runtime of 1 hour and 33 minutes. It has received mostly poor reviews from critics and viewers, who have given it an IMDb score of 4.1.