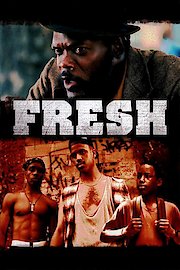 Watch Fresh
"New thinking about what we're eating"
R
1994
1 hr 54 min
81
Fresh is a gripping and fascinating film that tells the story of a 12-year-old boy from Brooklyn, New York who navigates a world of drug trafficking and violence to provide for himself and his sister. The film stars Sean Nelson as Fresh, a bright and street-wise boy who lives with his sister and drug-addicted father in a rundown apartment complex. Giancarlo Esposito plays Esteban, a chess-playing drug lord who hires Fresh to run errands and eventually to help him orchestrate a major drug deal. Samuel L. Jackson plays Fresh's estranged father, Sam, who provides his son with a brutal education in the drug trade.
The movie is a compelling examination of choices and consequences, as Fresh is forced to make difficult decisions in a world where survival is not guaranteed. The script is sharp and the dialogue is terse, creating a sense of tension and urgency that carries throughout the film. The performances are all top-notch, with Nelson delivering an impressive performance as the film's titular character. Esposito's portrayal of the suave and calculating Esteban is mesmerizing, and Jackson is typically strong in his supporting role.
Despite its gritty subject matter, Fresh is also a movie that explores themes of hope, redemption, and the power of intelligence. Fresh is a brilliant chess player, and his ability to see several moves ahead is not only a metaphor for his life, but also a source of inspiration for him. The scenes in which Fresh squares off against a chess master in New York's Washington Square Park are some of the movie's most memorable, showcasing the boy's intelligence and courage in a setting far removed from the violent streets where he lives.
One of the strongest aspects of the film is its depiction of the realities of life in the inner city. The film does not shy away from showing the brutal violence that permeates the world in which Fresh lives. Scenes of drug dealers being executed and children being caught in crossfire are shocking and visceral, but they also serve to illustrate the harsh realities of life for Fresh and those around him. The film also explores the role that racial and economic inequality play in the story, depicting the ways in which powerful people exploit those who are poor and marginalized.
Fresh is a movie that demands the viewer's attention, both for its powerful story and its striking cinematography. The film's use of color and light is particularly noteworthy, creating an immersive and often beautiful visual experience. The film's use of music is also effective, with a haunting and melancholy score that underscores the bleakness of Fresh's world.
Overall, Fresh is a movie that stands the test of time, offering a deeply affecting and memorable portrait of life on the streets of urban America. The film's examination of the choices that people make and the consequences that follow is both poignant and thought-provoking, and the performances by Nelson, Esposito, and Jackson are all superb. This is a movie that should not be missed by anyone who appreciates powerful, socially conscious cinema.
Fresh is a 1994 crime movie with a runtime of 1 hour and 54 minutes. It has received mostly positive reviews from critics and viewers, who have given it an IMDb score of 7.5 and a MetaScore of 81.