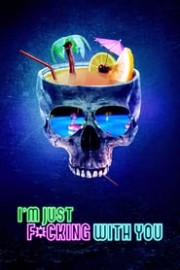 Watch I'm Just F*cking With You
2019
1 hr 21 min
I'm Just F*cking With You is a 2019 horror-comedy film directed by Adam Mason and produced by Blumhouse Productions, the studio behind popular horror hits such as Get Out, The Purge, and Insidious. The movie stars Hayes MacArthur as Larry, a prank-loving man who checks into a hotel on his way to his sister's wedding. There, he encounters a mysterious woman named Trisha (Jessica McNamee) and the socially awkward motel owner, Chester (Keir O'Donnell).
At first, Larry's hijinks seem harmless enough as he tricks Chester into drinking a faux cleaning solution and convinces Trisha that there's a ghost in her room. However, the humor turns weird when the pranks start to get more elaborate and sinister. As Chester becomes increasingly erratic and unhinged, Larry and Trisha begin to question his intentions and whether or not they might actually be in danger.
The film boasts a tense and eerie atmosphere, thanks to the tight confines of the motel setting and the ominous, distorted score by Anton Sanko. However, it also balances this with a healthy dose of humor, much of it provided by MacArthur's performance as the wry, sarcastic Larry. The dynamic between Larry, Trisha, and Chester is especially entertaining, as each character brings a distinct energy to the situation. McNamee, in particular, shines as the tough-but-vulnerable Trisha, who's not afraid to stand up to the pranksters.
One of the movie's strengths is its unconventional story structure. I'm Just F*cking With You is divided into three distinct acts, each with its own twist and tone. As the movie progresses, it becomes increasingly difficult to predict where it's headed, which keeps the viewer on edge. Mason and writer Gregg Zehentner make sure not to reveal too much too soon, letting the mystery and tension build until the explosive climactic sequence.
Another highlight of the film is its commentary on toxic masculinity and the dangers of unchecked male behavior. Larry's pranks are revealed to be rooted in his own insecurity and misogyny, and it's suggested that his actions could have real-life consequences. The film raises provocative questions about the line between harmless fun and genuine danger, as well as the power dynamics at play in interpersonal relationships.
Overall, I'm Just F*cking With You is a smart and satisfying genre blend that's sure to appeal to fans of horror and comedy alike. It's well-acted, tightly directed, and full of surprises, with a message that lingers long after the end credits roll.
I'm Just F*cking With You is a 2019 horror movie with a runtime of 1 hour and 21 minutes. It has received moderate reviews from critics and viewers, who have given it an IMDb score of 5.6.