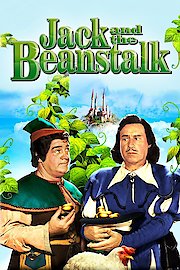 Watch Jack and the Beanstalk
NR
1952
1 hr 18 min
Jack and the Beanstalk from 1952 starring Bud Abbott, Lou Costello, and Buddy Baer is a classic fantasy adventure film that follows the famous folktale of a young boy named Jack who trades his family's cow for a handful of magic beans. The movie is a musical comedy filled with slapstick humor, catchy songs, and colorful set designs that bring the story to life.
The film opens with Jack (played by Lou Costello) and his best friend, Mr. Dinklepuss (played by Bud Abbott), performing as traveling musicians in a medieval village. They are struggling to make ends meet and decide to sell their only valuable possession, a cow named Milky White, in exchange for some food. However, they are duped by a shady merchant who gives them a handful of beans instead of money.
When Jack's mother (played by Dorothy Ford) finds out what he has done, she throws the beans out of the window in anger. But overnight, a giant beanstalk grows in their backyard, reaching beyond the clouds. This prompts Jack and his friends to climb up the beanstalk to the land of the giants, where they embark on a series of adventures and challenges to retrieve a magical singing harp and a goose that lays golden eggs from the clutches of the evil giant, played menacingly by Buddy Baer.
Bud Abbott and Lou Costello add comedic relief to the story with their bumbling antics and witty one-liners. Their comedic timing and physical humor are on full display throughout the movie, creating hilarious moments that will have audiences of all ages laughing out loud. The musical numbers are also a highlight, featuring songs like "Fee-Fi-Fo-Fum" and "Harps of Gold" that are both catchy and memorable.
The set designs used in the film are also impressive, particularly the giant's castle, which is a towering and imposing structure that adds to the sense of danger and adventure. The use of special effects, such as the shrinking and growing of objects, adds to the film's fantastical vibe. Additionally, the use of color is well-done, with the giant's castle and clothing popping out in a crimson red that is visually striking.
The movie's themes of friendship, bravery, and perseverance are woven throughout the story, providing valuable lessons for younger audiences. Jack is a relatable character who is willing to take risks to help his loved ones, and his journey teaches us about the value of loyalty and courage.
Overall, Jack and the Beanstalk is a classic film that has stood the test of time. It is a family-friendly adventure full of laughs, music, and magic that will entertain audiences of all ages. Abbott and Costello's comedic talents, combined with Buddy Baer's menacing portrayal of the giant and the film's colorful set designs and special effects, make this movie a must-see for anyone who loves classic fantasy adventures.
Jack and the Beanstalk is a 1952 comedy with a runtime of 1 hour and 18 minutes. It has received moderate reviews from critics and viewers, who have given it an IMDb score of 5.8.