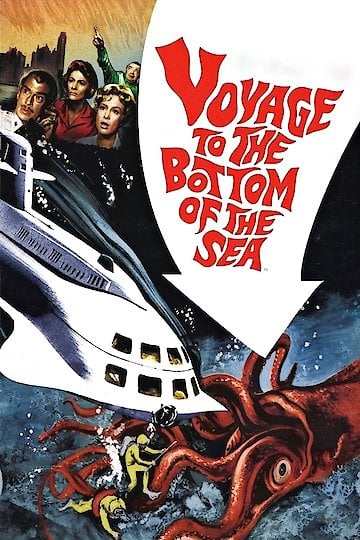 Watch Voyage to the Bottom of the Sea
PG
1961
1 hr 45 min
49
Voyage to the Bottom of the Sea is a science-fiction adventure movie from 1961 based on the 1961 Irwin Allen television series of the same name. The movie stars Walter Pidgeon, Joan Fontaine, and Barbara Eden and takes place in the near future where nuclear submarines have become the norm. The plot follows the crew of the Seaview, a deep-sea submarine designed to prevent a worldwide catastrophe.
The movie begins with the world on the brink of destruction due to a rogue asteroid that is hurtling toward Earth. The Seaview and its crew, under the command of Admiral Harriman Nelson (Walter Pidgeon), are the only ones capable of stopping the asteroid by firing a missile at it. However, their mission is threatened by saboteurs who want the missile to fail and ensure the end of the world.
The crew of the Seaview includes a diverse range of characters. Admiral Nelson is a brilliant scientist and engineer who is determined to save humanity from the asteroid. His second-in-command, Commander Lee Crane (Robert Sterling), is a brave and loyal officer who will stop at nothing to ensure the success of their mission. Joan Fontaine plays Dr. Susan Hiller, a scientist on board the Seaview who is determined to prove her worth to the predominantly male crew. Barbara Eden plays Lieutenant Cathy Connors, a nurse who also doubles as a radio operator.
As the Seaview sets sail on its mission, it encounters various obstacles, including giant squids, sea monsters, and the saboteurs onboard the ship. The saboteurs are part of a rogue group that is convinced that allowing the asteroid to hit Earth will trigger a new Ice Age and save humanity from overpopulation. They are led by Dr. Zucco (played by Henry Daniell), a crazed scientist who will stop at nothing to ensure the missile's failure.
The Seaview and its crew face numerous challenges as they embark on their mission. They have to navigate through dangerous underwater currents, battle sea monsters, and also deal with the saboteurs trying to stop them from completing their mission. The tension builds as the clock ticks down to the moment when the missile must be fired.
The movie features impressive special effects for its time, especially in the scenes where the Seaview battles the sea monsters. The design of the Seaview is also impressive and has become iconic in its own right. The movie provides a fascinating look at how future technology was envisioned in the early 1960s, particularly with the use of nuclear-powered submarines.
Overall, Voyage to the Bottom of the Sea is an entertaining and suspenseful science-fiction adventure that keeps viewers on the edge of their seats. The movie is not only a fun watch but also provides an interesting glimpse into the cultural and technological attitudes prevalent at the time. It's a classic movie that has stood the test of time and continues to be enjoyed by audiences today.