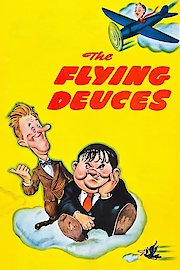 Watch The Flying Deuces
"They dish out the dizziest rib-ride of the year!"
Approved
1939
1 hr 9 min
Stan Laurel and Oliver Hardy blunder through this charming 1939 film in classic slapstick comedy style. After Ollie's heart is broken in Paris, he and his pal choose to join the French Foreign Legion in an effort to blot out his memories of the girl he loved. While there, they manage to get themselves into all sorts of trouble and hilarious mayhem. If you're looking for a family-friendly film filled with old-fashioned slapstick-humor, then you'll find this to be a delightful movie to watch.