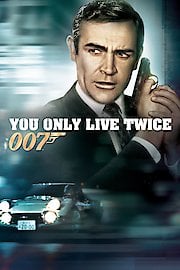 Watch You Only Live Twice
"You Only Live Twice... and Twice is the only way to live!"
PG
1967
1 hr 57 min
61
You Only Live Twice is the fifth entry in the James Bond series, a series which focuses on the daring adventures of an MI6 agent. Sean Connery plays the main character, James Bond, a womanizing and smart witted agent who works on behalf of Her Majesty's Secret Service (MI6). James Bond is sent to Japan after MI6 intel confirms that both a Soviet and American spacecraft have eerily disappeared from their orbit paths. While the superpower countries begin to blame each other, confusing the disappearance as a result of their ongoing Cold War, Bond goes to a remote Japanese island to find the true force behind the mysterious disappearances. James Bond tries to unravel the real story behind the spacecraft disappearances while traversing the secret Japanese Island. Little does he know that he may be in far over his head, being that he does not know what adversaries he will face on this mysterious Japanese island.