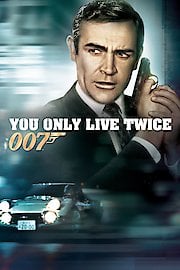 Watch You Only Live Twice
"You Only Live Twice... and Twice is the only way to live!"
PG
1967
1 hr 57 min
61
You Only Live Twice is a classic James Bond film that was released in 1967, and stars the iconic Sean Connery as the world-renowned spy. This movie is the fifth in the James Bond franchise, and provides an exciting adventure that takes Bond to Japan as he faces off against his nemesis, Ernst Stavro Blofeld. The movie begins with a sequence that signals Bond's death. After an unsuccessful attempt by the enemy to kill Bond, the British secret agent is sent to Japan on a new mission. The goal is to prevent the United States and the Soviet Union from declaring war on each other from inside a secret volcano. In Japan, Bond meets Aki, a contact who assists him in completing his mission. Alongside Aki are two other beautiful women, Kissy Suzuki and Helga Brandt, who join 007 in his quest to stop Blofeld.
The action-packed movie features Bond carrying out his mission in various locations around Japan, from the crowded streets of Tokyo to the peaceful countryside. Bond faces several obstacles throughout the movie that nearly kills him, but he is able to overcome every challenge through his wit, cunning, and luck.
The sets in You Only Live Twice are nothing short of impressive. From the massive headquarters inside a volcano to the James Bond training facility, the movie's production design is quite phenomenal. The movie is shot in CinemaScope, with its colorful and creative images capturing the essence of Japan as a beautiful and exotic location.
Acting wise, Sean Connery delivers an excellent performance that shows Bond's cool and collected demeanour, as well as his charisma and charm. Akiko Wakabayashi and Mie Hama, who play the Bond girls Aki and Kissy, bring grace and sensuality to the cast. Both actresses leave their mark throughout the movie.
The movie's theme song, performed by Nancy Sinatra, is a classic and perfectly captures the spirit of James Bond. The film's background score, created by John Barry, provides a fitting accompaniment for the action taking place on screen.
The plot of You Only Live Twice is straightforward and easy to follow, with no complicated twists or turns. However, the movie's lack of complexity isn't a downfall as it focuses instead on the movie's action, romance, and suspense.
The special effects used in the movie, mostly related to explosions, gunshots, and fight scenes, remain impressive even by today's standards. The climactic fight scene in the villain's headquarters, with ninjas descending from the roof, remains a standout sequence.
Overall, You Only Live Twice is a classic James Bond movie that features action, romance, suspense, and amazing visuals. The film was a commercial and critical success, grossing over $111 million worldwide at the box office. It's an enjoyable movie that provides a thrilling adventure that keeps the audience on the edge of their seats.
You Only Live Twice is a 1967 action movie with a runtime of 1 hour and 57 minutes. It has received moderate reviews from critics and viewers, who have given it an IMDb score of 6.8 and a MetaScore of 61.