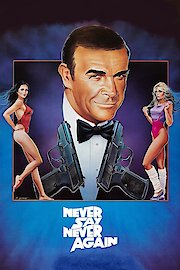 Watch Never Say Never Again
"Sean Connery is James Bond 007"
PG
1983
2 hr 14 min
68
In 1983, James Bond fans were treated to a unique experience – a non-official Bond movie starring the legendary Sean Connery. Never Say Never Again is a remake of the 1965 Bond movie Thunderball, and while it may not be part of the official EON Productions canon, it still manages to deliver the thrills, action, and humor that fans have come to expect from their favorite secret agent.
The story begins with an aging James Bond (played once again by Sean Connery) being called out of retirement to investigate a suspicious organization known as SPECTRE. Their leader, the sinister Ernst Stavro Blofeld (Max von Sydow), has managed to steal two nuclear warheads, and threatens to use them for his own gain unless the world's governments pay him an exorbitant ransom.
With the help of fellow agent Felix Leiter (Bernie Casey), Bond sets off on a quest to find the warheads before it's too late. Along the way, he encounters a series of dangerous and seductive women, including the gorgeous Domino Petachi (Kim Basinger), who is also Blofeld's mistress.
As Bond races against time and battles Blofeld's henchmen, he must also confront his own mortality and limitations as an older man. But his experience, wit, and charm are still as sharp as ever, and he proves more than capable of taking on whatever challenges come his way.
One of the strengths of Never Say Never Again is its cast, which includes several talented actors who bring their own unique flair to the Bond universe. Kim Basinger is stunning as Domino, who is torn between her loyalty to Blofeld and her growing attraction to Bond. Klaus Maria Brandauer plays Largo, Blofeld's ruthless right-hand man, with a mix of sophistication and brutality that makes him a formidable foe.
Director Irvin Kershner (best known for his work on The Empire Strikes Back) infuses the movie with plenty of excitement, from the high-stakes underwater battles to the sleek car chases. But he also injects subtle moments of humor, such as when Bond pauses in the middle of a fight to straighten his tie, reminding us that this is a man who never loses his suave demeanor.
Of course, the biggest draw of Never Say Never Again is seeing Sean Connery once again don the suit and tie of James Bond, a role he originated in 1962's Dr. No. Despite being in his early 50s at the time of filming, Connery still exudes the same charm, wit, and masculinity that made him a beloved icon of cinema. He brings a unique gruffness and world-weariness to the character, showing that even a spy as slick as Bond can't escape the ravages of time.
But Never Say Never Again isn't just a nostalgia trip for Bond fans. It's a well-crafted and exciting action movie that stands on its own merits, even without the official Bond seal of approval. With its memorable villains, gorgeous women, and thrilling set pieces, it's a movie that's worthy of the Bond legacy – and a must-see for anyone who loves a good spy flick.
Never Say Never Again is a 1983 adventure movie with a runtime of 2 hours and 14 minutes. It has received mostly positive reviews from critics and viewers, who have given it an IMDb score of 6.1 and a MetaScore of 68.