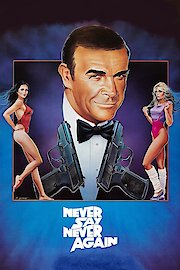 Watch Never Say Never Again
"Sean Connery is James Bond 007"
PG
1983
2 hr 14 min
68
Never Say Never Again is another movie in the popular James Bond series. This film begins when SPECTRE agents infiltrate an American Air Force base and steal two cruise missiles. They then proceed to attempt to extort money out of NATO. Left with no other options the British choose to bring back their "OO" agents. Bond is sent in to recover the stolen missiles before it is too late. Bond solves problems with his wits, guts, and with force. The movie also features many attractive women and fantastic sites.