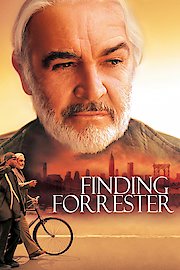 Watch Finding Forrester
"In an ordinary place, he found the one person to make his life extraordinary."
PG-13
2001
2 hr 16 min
62
Jamal Wallace, played by Rob Brown, finds himself invited to a New York prep school. This invitation is due to his prowess in basketball and his high score on a standardized test. Jamal struggles with focusing on basketball as a secure career or following his love of writing. Jamal sets the tone early by letting the viewer see him fighting against stereotypes both socially and intellectually. Professor Robert Crawford, played by F. Murray Abraham, is an intellectual snob and sneers at the basketball player, Jamal, sitting in his classroom. Crawford canonizes Forrester's Pulitzer Prize winning novel and bemoans the fact that Forrester disappeared after writing it. Jamal's book bag is left accidentally in the apartment of a neighborhood recluse after breaking in on a dare. Jamal receives the bag later as it drops from the apartment window. Jamal finds his journals filled with editorial notes. Seeing the value of the editorial comments, Jamal asks the recluse to help him with his writing. Jamal discovers that the man is William Forrester, played by Sean Connery. Forrester agrees to help Jamal hone his writing, and Jamal in return attempts to bring Forrester back into the world. Forrester tells Jamal of the responsibility he feels for the tragic death of his brother. Jamal enters a writing contest with a piece that Crawford spots as plagiarism of Forrester's work. Jamal will not betray Forrester by disclosing that he knows where he is. The school, which prizes Jamal's athletic skills, agrees not expel him for the plagiarism if he will win the big game. The beauty of this story is in the journey of both Forrester and Jamal as they help each other and themselves over come the conflicts in their lives. Sean Connery puts in a stellar performance as the abrasive urban hermit who slowly through the course of the story reveals his intense humanity. Rob Brown puts in an equally impressive performance as the young man developing the courage to not only take the path less traveled but to do the right thing.