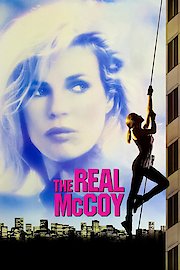 Watch The Real McCoy
"20 guards. 30 tons of steel. A security system second to none. They said there wasn't a man on Earth who could pull off a bank job like this. They were right."
PG-13
1993
1 hr 45 min
Karen McCoy, an expert burglar, was left stranded by her partners in a bank while she was attempting to rob it and got caught and incarcerated. Now, after completing her sentence serving six long years in prison, Karen wants nothing more than to straighten up. She's ready to start over with a fresh new life, and raise her son. However, her former associates, including her crooked parole officer, leave her no choice but to pull one more heist. They deviously kidnap her six year old son and manipulate her into doing one last job for them in order to get her son back. Karen teams up with J.T. Barker, who she later develops feelings for, and gets even more prepared than ever with the right mentality and high-tech equipment to break into America's most secure bank in order to save her son. Only this time, she's ready to succeed and outwit everyone.