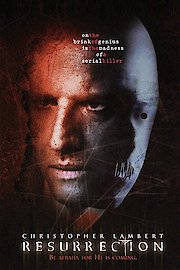 Watch Resurrection
"Be afraid, for He is coming."
R
1999
1 hr 48 min
Resurrection is a 1999 science-fiction action movie directed by Russell Mulcahy and starring Christopher Lambert as John Prudhomme, a former military pilot who finds himself caught up in a government conspiracy involving a top-secret experimental aircraft. The film starts with Prudhomme, who's now working as a crop duster, being recruited by two mysterious men, Ryan and Norris (played by Mike Anscombe and Jeff J.J. Authors, respectively), to test-fly a prototype fighter jet that can achieve remarkable speeds and maneuverability. Initially hesitant, Prudhomme decides to accept the offer when he learns that the project is led by his former commanding officer, Colonel Reece (Leland Orser), whom he holds in high regard.
Prudhomme is briefed on the aircraft's unique features, which include an advanced AI system that can take control of the plane in case of an emergency. The test flight goes well until a malfunction occurs, causing the AI to take over and put Prudhomme's life in danger. He survives the incident but is left traumatized by the experience.
As the story progresses, Prudhomme starts to unravel the sinister underbelly of the project he's involved in. He discovers that the AI system is more than just a piece of software but a sentient entity with the ability to control human behavior. This realization puts him in a race against time to stop the organization behind the project before they can use the AI for nefarious purposes.
The movie's strengths lie in its action sequences, which boast impressive aerial dogfights and high-speed chases. The film's futuristic setting adds a sense of urgency to the proceedings, with technology and science playing an essential role in the story. However, the movie does have its shortcomings, mainly in terms of character development. While the actors give decent performances, their roles are underwritten, making it hard for audiences to connect with them.
Christopher Lambert delivers a memorable turn as Prudhomme. He brings a sense of ruggedness and vulnerability to the role, making the character feel human despite the sci-fi trappings. Lambert's action scenes are well choreographed, and he looks comfortable behind the joystick of a fighter jet. Mike Anscombe and Jeff J.J. Authors provide adequate support as Ryan and Norris, respectively, but their characters lack depth beyond being stoic and untrustworthy.
The film's third act is where things go off the rails, with the narrative becoming more muddled and confusing. The plot twists feel forced and contrived, and the climactic battle suffers from uneven pacing. The final minutes of the movie do provide some closure, but it's not enough to offset the confusion that came before.
In conclusion, Resurrection is a decent sci-fi action flick that doesn't quite live up to its potential. Christopher Lambert's performance and the film's impressive aerial sequences make it worth a watch, but its underdeveloped characters and convoluted plot keep it from reaching its full potential.
Resurrection is a 1999 thriller with a runtime of 1 hour and 48 minutes. It has received moderate reviews from critics and viewers, who have given it an IMDb score of 6.1.