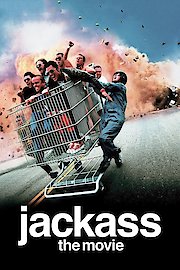 Watch Jackass: The Movie
"Do not attempt this at home."
R
2002
1 hr 26 min
42
As one of the most infamous and controversial films of the early 2000s, Jackass: The Movie was a cultural phenomenon that both horrified and captivated audiences around the world. Released in 2002, it starred the irreverent and boundary-pushing team of Johnny Knoxville, Bam Margera, and Chris Pontius, along with a host of other pranksters and daredevils who were willing to do just about anything to get a laugh (or a gasp) from their viewers.
At its core, Jackass: The Movie was all about pushing the limits of what people would do for the sake of entertainment. From stunts like "The Human Rocket" - where a hapless participant is launched into the air by a massive explosion - to "Butt X-Ray" - where the team inserts a camera into...well, you can probably guess - the film was chock-full of outrageous moments that left audiences cringing, laughing, and sometimes even vomiting in their seats.
But while the stunts themselves were certainly the main attraction, what made Jackass: The Movie really stand out was its fearless energy and irreverent sense of humor. Whether the team was pulling off a wild prank on unsuspecting strangers or simply goofing off and clowning around for the camera, they always seemed to be having a blast - and that sense of sheer joy and delight was infectious, even if some of the stunts themselves were downright horrifying.
Of course, it's hard to talk about Jackass: The Movie without touching on some of its most infamous moments. From the "Pontius Skating" sequence, in which Chris Pontius roller-skates naked through a series of gross-out, sexually suggestive "obstacles," to the "Alligator Tightrope" stunt, in which Johnny Knoxville attempts to cross a pool of alligators on a precarious tightrope, the film was chock-full of jaw-dropping, cringe-inducing moments that left viewers both gasping in horror and howling with laughter.
But what's perhaps even more interesting about Jackass: The Movie is how it managed to transcend its reputation as a mere gross-out comedy and become something of a cultural touchstone for a particular moment in time. In many ways, the film was a reflection of the early 2000s zeitgeist - a time when reality TV was on the rise, extreme sports were becoming more popular, and a certain kind of shock-driven, lowbrow humor was in vogue.
At the same time, though, Jackass: The Movie also managed to subvert expectations and challenge viewers in unexpected ways. As much as the film was about pushing the boundaries of taste and decency, it was also about celebrating the sheer joy and abandon of being alive - of throwing caution to the wind and living life to the fullest. In a sense, the film was both a critique and a celebration of American excess - and it's that combination of ambivalence and exuberance that gives it its enduring power.
All in all, Jackass: The Movie is a film that's hard to forget, whether you love it or hate it. It's a film that manages to push the limits of what's acceptable in mainstream cinema, and it's hard to imagine it being made (or marketed) in the same way today. But for all its craziness and its controversies, it's also a film that reminds us of the sheer joy (and pain) of being alive - and that's a message that's as powerful and relevant today as it was back in 2002.
Jackass: The Movie is a 2002 comedy with a runtime of 1 hour and 26 minutes. It has received mostly poor reviews from critics and viewers, who have given it an IMDb score of 6.6 and a MetaScore of 42.