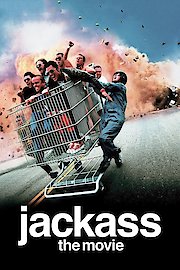 Watch Jackass: The Movie
"Do not attempt this at home."
R
2002
1 hr 26 min
42
Jackass: The Movie is an action-packed film based on the reality television series Jackass. It follows a group of friends as they perform outrageous stunts and pranks, many on unsuspecting passersby. The film is basically a series of segments involving the Jackass crews' adventure. The basic premise of the film is to be an uncensored look at what the Jackass crew could not show on their television series. Some of the pranks they do are very crass and show nudity. Others involve ample profanity such as one cast member, Bam Margera, making a vow to do everything possible to make his mother curse. She eventually does. The pranks are so extreme and involve public nudity as well. One cast member uses the bathroom in a Home Depot model toilet as if it were in his own home. Another prank involves inserting a model car up a cast member's butt and taking X-Rays of it. Because of these pranks, and others, the film easily earns it's R rating. The Jackass crew loves to use themselves as human projectiles. Many of the guys have backgrounds as professional stuntmen or skateboarders and they are athletic and their bodies are definitely used to taking a beating. Still, it is quite an impressive feat to see what the guys do. In one scene, Johnny Knoxville, who is the host and de facto leader of the Jackass crew, makes a large-scale catapult and uses himself as the ball. He launches himself through the air and lands in a pond. Sometimes instead of being the weapon, the boys are the target. In one memorable sequence, Knoxville allows his friends to shoot at his intimate region with a beanbag fired from a projectile gun. The end result leaves him bruised and in substantial pain. Several of the other Jackass crew members received severe injuries while filming such as broken bones. The boys never seem to mind, they laugh off the injury as part of the job. Not all of the stunts that the Jackass crew do are gross or painful. Some are light-hearted and fun such as when the gang walks around Japan in a giant Panda Bear costume. Even real animals find themselves involved in the Jackass antics. In one memorable scene, the boys battle a live alligator.