Watch Justin Bieber: Never Say Never
"Find out what's possible if you never give up."
This combination concert film and documentary captures the teen sensation from his childhood to his first Madison Square Garden performance. Filmed in 2010, the movie shows Bieber in the 10 days leading up to his largest concert audience, from his time on the tour bus studying his homework, to his rehearsals with the dancers and musicians from the show. In spite of the glamour and celebrity of his daily life, Bieber seems to be a refreshingly normal kid who happens to be a superstar. Originally released in 3D, the film includes dazzling musical performances from Beiber and a slew of guest stars including Miley Cyrus, Jaden Smith and Sean Kingston.
Interspersed with the show business side of his current life, the movie documents his background. His mother, Patricia, became pregnant at 17 and raised Justin with the help of her mother and stepfather. Childhood photos, early videos and interviews with family and friends illustrate his early musical ability and natural charm. After Patricia posts one of Bieber's talent contest performances on YouTube, talent agent Scooter Braun recognizes Bieber's unique potential and decides to represent him. An introduction to R&B star Usher leads to his recording his breakthrough album "My World" and entering pop culture history. His television interviews on "The Tonight Show with Jay Leno" and "Chelsea Lately" with Chelsea Handler are also included.
In spite of the worldwide fame and fortune, Bieber appears to be barely different than his boyhood friends from Canada, and maintains a sense of humor about his celebrated hair and persona. When he hurts his vocal cords by hanging out with his buddies, he looks like a typically sheepish teenager who has broken curfew. He sincerely regrets having to cancel a concert so that his voice will be back in shape for Madison Square performance. The big concert highlights include his duet of "Overboard" with Miley Cyrus and "Never Say Never" with Jaden Smith. The film also won the MTV Movie Award for "Most Jaw Dropping Moment" for his fiery song and dance moves.
|
2011
|
1 hr 45 min
|

/

10
Cast

Studio

Director

Jon M. Chu, Jason Boritz

Language

German
Justin Bieber: Never Say Never News
Justin Bieber Apologizes for Past Behavior: 'I'm Not What I Was Pretending to Be'
January 29, 2015 @ 2:38 pm PST
|
Read More

Unretouched Justin Bieber Photos Reveal Calvin Klein Gave Him a Bigger...Everything
January 09, 2015 @ 11:44 am PST
|
Read More

Justin Bieber Responds to Photoshop Claims with Snarky, Shirtless Instagram Pic
January 15, 2015 @ 4:32 pm PST
|
Read More

Justin Bieber in Hot Water After Racial Slurs, 'Jokes'
June 05, 2014 @ 5:12 pm PST
|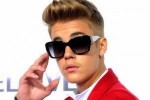 "Never Say Never" star and crooner Justin Bieber is in more hot water - this time, it's an incident from his past, not present, that's bringing  criticism toward the Biebs. On Wednesday, TMZ posted a video of Bieber, then 14, changing the words of his love song "One Less Lonely Girl" to some unfortunate new lyrics.
Read More


Watch Justin Bieber: Never Say Never Trailer

Justin Bieber: Never Say Never|0:02
Justin Bieber: Never Say Never Movie Trailer Official (HD)|1:33
Watch Justin Bieber: Never Say Never Online - Watch online anytime anywhere: Stream, Download, Buy, Rent
Justin Bieber: Never Say Never is currently available to watch and stream, download, buy, rent on demand at Netflix, Amazon, Vudu, Google Play, YouTube VOD, iTunes online.