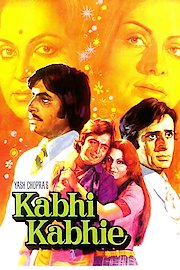 Watch Kabhi Kabhie
"Love is life."
NR
1976
2 hr 58 min
Kabhi Kabhie is a 1976 Indian Hindi-language film directed by Yash Chopra and starring Amitabh Bachchan, Shashi Kapoor, Rakhee Gulzar, and other famous names from the Hindi film industry. The movie is a romantic drama that portrays the complexities of relationships and the power of love. The story is centered around the characters of Amit Malhotra (Amitabh Bachchan) and Pooja Khanna (Rakhee Gulzar), who were once in love but got separated due to circumstances. Pooja ends up marrying Vijay Khanna (Shashi Kapoor), a poet, and writer who falls in love with her despite her past. The movie also involves a parallel love story of Rishi Kapoor and Neetu Singh, who play the roles of Vicky and Pinky, respectively.
The movie begins with Amit, who is now a successful poet and editor of a magazine, reminiscing about his past love with Pooja. We then see the introduction of other characters, including Vijay, Pinky, and Vicky, who are friends and students at the same college.
As the movie progresses, we see the characters grow up and their relationships evolve. Pooja and Vijay get married, and Amit marries Anjali (Waheeda Rehman), Pinky's elder sister. However, Amit's love for Pooja never fades away, and he continues to write poems addressing his emotions for her.
The theme of the movie revolves around the question of whether love can exist beyond boundaries and whether one can love someone unconditionally. The characters face various challenges in their relationships - Vijay's insecurity, Pinky's reluctance to marry Vicky, and Amit's continuous pining for Pooja. However, the underlying emotion that binds them together is love.
Apart from the love story, the movie also portrays the cultural and societal norms of the time. For example, the idea of an inter-religious marriage was frowned upon, and Vijay is shown struggling with his insecurities regarding Pooja's past. However, the movie subtly subverts these expectations by showing a positive outlook towards love and acceptance.
One of the most memorable aspects of the movie is its music. The film's soundtrack was composed by Khayyam and remains a classic to date. Kabhi Kabhie, the title track of the movie, is a beautiful melody that captures the essence of the movie's theme. Other songs, such as Main Pal Do Pal Ka Shayar Hu and Tere Chehre Se Najar Nahin, are still hummed by fans.
Overall, Kabhi Kabhie is a classic romantic drama that beautifully captures the essence of love and relationships. It remains an important movie in the Indian film industry and is remembered for its music, performances, and direction.
Kabhi Kabhie is a 1976 drama with a runtime of 2 hours and 58 minutes. It has received mostly positive reviews from critics and viewers, who have given it an IMDb score of 7.1.