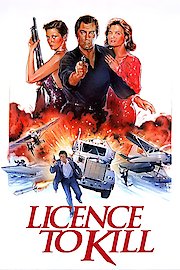 Watch Licence to Kill
"James Bond is out on his own and out for revenge."
R
1989
2 hr 13 min
58
Licence to Kill is a 1989 action-adventure film, directed by John Glen and stars Timothy Dalton as James Bond, Robert Davi as the main villain, Franz Sanchez, and Carey Lowell as Bond's love interest, Pam Bouvier. The plot of the movie revolves around Bond's quest for revenge against Sanchez after he maims his friend and CIA informant Felix Leiter and murders Leiter's wife.
The story begins with James Bond being tasked with helping the CIA capture drug lord Franz Sanchez, who has been smuggling drugs into the United States. Bond initially succeeds in capturing Sanchez, but the villain escapes from prison with the help of corrupt DEA agents and sets out on a mission of revenge against those who betrayed him. In the process, he kidnaps Felix Leiter and his wife, whom he brutally murders.
Determined to avenge his friend's death, James Bond defies his orders and sets out on a personal mission to take down Sanchez and his organization. He goes on a wild ride to South America, where he infiltrates Sanchez's operation by posing as a ruthless criminal. Along the way, he joins forces with Pam Bouvier, a former pilot turned informant, to gather intelligence and gain Sanchez's trust. Together, they witness first-hand the brutal horrors of the drug trade and the lengths to which Sanchez will go to protect his empire.
As Bond's plan begins to take shape, he gains the upper hand on Sanchez by destroying his drug shipments and formulating a plan to infiltrate his inner circle. But Bond's presence is soon discovered, and he is forced to fight a personal battle against Sanchez and his henchmen. What follows is an explosive finale, involving high-speed chases, gun battles, and a showdown atop a burning tanker truck.
Throughout the movie, Timothy Dalton delivers an intense and gritty performance as James Bond, portraying the character as a vengeful avenger who is willing to do whatever it takes to bring justice to his friend. Robert Davi is equally compelling as Franz Sanchez, a ruthless and sadistic drug lord who will stop at nothing to protect his empire. Carey Lowell gives an impressive performance as Pam Bouvier, a tough and resourceful ally who matches Bond's wit and bravery.
License to Kill is a departure from the typical Bond formula, focusing on darker themes and intense action set pieces. While it may not be the most iconic Bond movie, it is certainly one of the more gripping and adult-oriented entries in the franchise. The film was also noteworthy for being the last to feature Timothy Dalton as James Bond, as well as the last to be produced by the franchise's original parent company, United Artists.
Licence to Kill is a 1989 adventure movie with a runtime of 2 hours and 13 minutes. It has received moderate reviews from critics and viewers, who have given it an IMDb score of 6.6 and a MetaScore of 58.