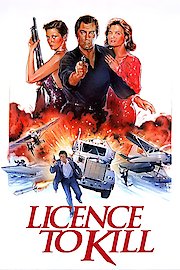 Watch Licence to Kill
"James Bond is out on his own and out for revenge."
R
1989
2 hr 13 min
58
In this sixteenth bond film, James Bond, Agent 007, takes on violent drug lord Franz Sanchez, who has escaped the custody of the DEA. After Bond's friend and CIA contact, Felix Leiter, is left for dead, and his wife murdered by Sanchez's men, Bond goes on a personal crusade to find and kill Sanchez against the orders of the British government. Bond enlists the help of an ex-CIA pilot Pam Bouvier, who joins him in Isthmus City to find Sanchez. Bond quickly finds that Sanchez is virtually untouchable due to his bribery of government officials and the police. After a botched hit against Sanchez, Bond narrowly escapes with his life. Believing Bond to be a rogue agent, Sanchez hires Bond into his organization. Bond proceeds to pit Sanchez and key members of his organization against each other. During a tour of Sanchez's home base, Bond is recognized by one of Sanchez's men and his deception is revealed. Bond and his pilot must now face the fight of their lives to free themselves from Sanchez's grasp and bring down his operation once and for all.