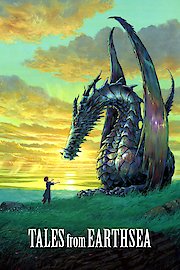 Watch Tales from Earthsea
"Once Man and Dragon were one. Man chose Land and Sea, Dragon chose Wind and Fire."
PG-13
2006
1 hr 55 min
47
This animated feature also released as Gedo Senki hales from Japan and its characters speak Japanese. A big hit for a Japanese, animated feature, this movie features the story of a teenager and a wizard who are trying to find the reason for a problem with Earth's natural imbalance. What they encounter is a villain who wants to live forever at all costs. Fans of Japanese animation will love this feature.