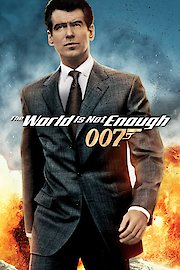 Watch The World Is Not Enough
"As the countdown begins for the new millennium there is still one number you can always count on."
PG-13
1999
2 hr 8 min
57
Sir Robert King is on the list of a few terrorists and they want some of his money. In an attempt to make that happen, they kidnap his daughter Elektra and hold her for ransom. James Bond, agent 007 for MI6 (Pierce Brosnan) is on the case and has been assigned to protect the daughter after she was released. King has been assassinated at the MI6 headquarters through during a bombing attempt which was aimed at him. Renard (Robert Carlyle) has managed to avoid an assassination attempt on his life by MI6 and has since stepped up his terrorist activities, turning the tables on MI6 as a result. The terrorists hope to wreak havoc by destroying a major pipeline being planned and it is the job of MI6 and James Bond to stop them. The construction of the pipeline is being monitored by Dr. Christmas Jones, a research scientist who has to assist Bond foil the plans created by the terrorists. It is later discovered that Elektra is working alongside the terrorists to help them accomplish their goals and they plan on using a submarine to dispense their tyranny. The submarine has nuclear capabilities and it is the reactor aboard the sub that they are primarily interested in. This all takes place in Istanbul where the plan is to cause further destruction. As Bond avoids further assassination attempts, he must also consider the dangers that large amounts of plutonium can cause if it is released into the earth's atmosphere. The Russian pipeline that is being attacked would also bring financial disruption to the economy. Bond suffers further setbacks when it comes to light that Elektra's head of security is not to be trusted. Michael Apted directs this adventure that takes us through the UK, Turkey, Spain and the French Alps. Supporting cast members you might recognize are Robbie Coltrane as Valentin Zukovsky, Samantha Bond as Miss Moneypenny and Maria Grazia Cucinotta as the Cigar Girl.