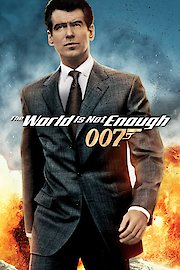 Watch The World Is Not Enough
"As the countdown begins for the new millennium there is still one number you can always count on."
PG-13
1999
2 hr 8 min
57
The World Is Not Enough is the nineteenth spy movie in the long-running James Bond franchise, released in 1999. The movie stars Pierce Brosnan as James Bond, alongside Sophie Marceau as Elektra King, Robert Carlyle as Renard, and Denise Richards as Dr. Christmas Jones. Directed by Michael Apted, the movie is full of action, suspense, and exotic locations.
The plot of the movie revolves around a terrorist attack that damages an oil pipeline in the Caucasus Mountains, which is owned by Elektra King, a wealthy heiress. James Bond is assigned to protect Elektra from further attacks by her former kidnapper, Renard, who is a former KGB agent turned terrorist. Meanwhile, M16 suspects there is a conspiracy to take over the world by using Elektra's control over the oil industry.
As the plot thickens, Bond discovers a plot to create a submarine-based nuclear warhead under Elektra's sea-bed oil rig to destroy Istanbul and monopolize the oil market. During his mission, Bond travels to different locations around the world including Baku, Azerbaijan, Istanbul, Turkey, and the Caspian Sea.
The movie begins with Bond investigating the murder of Sir Robert King, a British oil tycoon who was killed while traveling to collect a new technology developed by Dr. Christmas Jones. Bond is briefed by M to safeguard King's daughter, Elektra King, who inherited his oil business.
Bond follows the clues to Azerbaijan, where he meets Valentin Zukovsky, a former KGB agent who now runs a smuggler's ring. Bond and Zukovsky form a shaky alliance and infiltrate a facility where they discover Renard's involvement in the pipeline attack. Bond then heads to Kazakhstan, where he discovers that Renard has stolen a nuclear warhead from a research facility.
Back in Azerbaijan, Bond discovers that Elektra is in league with Renard and is planning to use the stolen warhead to blow up Istanbul and gain control of the oil supply. Bond and Dr. Jones head to the undersea pipeline on Elektra's oil rig, where they face off against Renard and his forces while trying to disarm the nuclear device and save Istanbul from destruction.
The movie features some spectacular action sequences, including a thrilling boat chase through the canals of Istanbul and a high-speed chase through a mountainous quarry in Azerbaijan. Brosnan delivers a solid James Bond performance, bringing his signature charm and wit to the role.
Sophie Marceau makes a stunning Bond girl, combining beauty with a devious and manipulative character that keeps the audience guessing until the end. Carlyle also does an excellent job as the villain, Renard, who is slowly losing his senses due to a bullet lodged in his brain. Denise Richards as Dr. Christmas Jones provides a lot of the movie's comic relief and adds some sex appeal to the mix.
In conclusion, The World Is Not Enough is a thrilling entry in the James Bond franchise. With its exotic locations, adrenaline-fueled action sequences, and a strong cast, it offers everything you would expect from a Bond movie. If you haven't seen it yet, you're missing out on one of the best movies in the series.
The World Is Not Enough is a 1999 adventure movie with a runtime of 2 hours and 8 minutes. It has received moderate reviews from critics and viewers, who have given it an IMDb score of 6.4 and a MetaScore of 57.