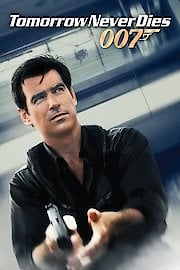 Watch Tomorrow Never Dies
"Yesterday is a memory. Today is history. Tomorrow is in the hands of one man."
PG-13
1997
1 hr 59 min
52
Tomorrow Never Dies is directed by Roger Spottiswood and stars Pierce Brosnan, Jonathan Pryce, Michelle Yeoh, Teri Hatcher, Joe Don Baker, and Judi Dench. In this eighteenth installment of the James Bond series, we follow James Bond as he attempts to stop a media-madman as he engineers events leading to world crisis in order to initiate World War III. Elliot Carver, played by Jonathan Pryce, is the antagonist of the film and masterminds a plan that draws a British battleship off course and into Chinese territory. He then sinks it with one of his own stealth submarines convincing the authorities that it was a Chinese torpedo. With all of this, and some more of his plans coming into motion, who is to stop him but the one and only, James Bond. Filled with martinis, girls, and guns, the women in this film do not disappoint. James Bong is forced to re-encounter one of his old relationships. In doing so, she dispels information that is critical in his mission to stop Carver. The other Bond woman is Wai Lin, an undercover news agent who becomes a valuable ally in aiding Bond to stop Carver in his tracks.