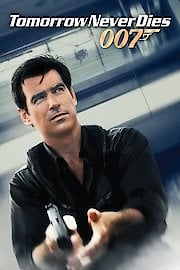 Watch Tomorrow Never Dies
"Yesterday is a memory. Today is history. Tomorrow is in the hands of one man."
PG-13
1997
1 hr 59 min
52
Tomorrow Never Dies is an action-packed spy thriller released in 1997 and was the 18th installment in the James Bond franchise. It was directed by Roger Spottiswoode and starred Pierce Brosnan as James Bond, along with Jonathan Pryce as the media mogul and villain, Elliot Carver, and Michelle Yeoh as Chinese spy Wai Lin. The movie starts off with James Bond getting assigned to investigate the death of a British Navy warship commander named Charles Robinson, who was killed while performing a routine inspection of the vessel off the coast of China. Bond discovers that Robinson's ship was destroyed using a GPS encoder stolen from a British military research facility. Bond's investigation leads him to Elliot Carver, the head of the Carver Media Group funded by China, who plans to use his influence to start a war between China and Britain. Carver tries to frame China for sinking the British ship and hopes to use the conflict to boost his ratings and control the Chinese market. In his quest to stop Carver, Bond teams up with Chinese Secret Service agent Wai Lin. The two race against time to prevent Carver from achieving his evil plan and causing a global crisis. The action sequences in Tomorrow Never Dies are top-notch, with Brosnan delivering his classic suave charm and wit in his role as Bond. The movie also features impressive stunts and explosive action scenes, including a breathtaking motorcycle chase and a thrilling escape through a sinking ship. In addition to the thrilling action, Tomorrow Never Dies also explores the themes of technology and media manipulation. Carver uses various technological devices to further his goals, showcasing the power of the media to shape public opinion and influence world events. The performances by the main cast members are commendable as well. Brosnan delivers a strong portrayal of James Bond, while Michelle Yeoh brings intensity and grace to her role as Wai Lin. Jonathan Pryce's portrayal of Elliot Carver is chilling, showcasing the character's maniacal ambition and unscrupulous nature. Overall, Tomorrow Never Dies is a worthy addition to the James Bond franchise, delivering on the classic elements of action, suspense, and espionage while exploring themes that remain relevant to this day. It's a must-watch for fans of the series and anyone who loves a good spy thriller.