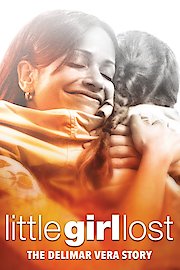 Watch Little Girl Lost: The Delimar Vera Story
TV-PG
2008
1 hr 29 min
Little Girl Lost: The Delimar Vera Story is a 2008 television drama film that tells the true story of a mother's unyielding determination to find her missing daughter, even though everyone around her deemed her crazy. The film stars Judy Reyes as Luz Cuevas, a Puerto Rican mother, who discovers one day that her infant daughter, Delimar, is missing in a house fire that officials believed to be accidental. Despite the official report, Luz believes that Delimar is still alive, and she starts her own investigation to uncover the truth.
Ana Ortiz plays the role of Detective Marlene Solis, who initially dismisses Luz's claims as delusional but later becomes convinced that there is more to the story than meets the eye. Solis is a devoted mother and can relate to Luz's plight and empathizes with her.
In her search for the truth, Luz is aided by her husband, Pedro, played by Hector Luis Bustamante, who also believes that their daughter might still be alive. Together, the couple relentlessly pursues any lead and investigates every possibility even as her husband's family, who live in the same house, begin to question her sanity.
The film portrays the emotional wreckage that Luz feels as she navigates the dark waters of grief and loss while being looked at with suspicion by everyone she knows. The film shows how Luz's relentless efforts to find Delimar take their toll on her physically and emotionally. Her life becomes a never-ending cycle of dead-ends and leads that ultimately lead to nowhere.
One of the most poignant moments in the film is when Luz meets a woman who looks like Delimar, and the heart-wrenching scene that follows when the woman recognizes Luz and calls her "Mom." It's a moment that is both hopeful and devastating, as Luz realizes that it's not her daughter after all.
The film uses flashbacks to show the moments leading up to the fire and how Delimar's mother had left her unattended in a room before it happened. Coupled with the guilt of believing that she could have been there to save her daughter, Luz's search for Delimar feels like an atonement for her crime.
As the years pass, Luz's resolve never wavers, and she goes from being dismissed as "crazy" to being a thorn in the side of the authorities. The film beautifully shows how mothers, in their search for their children, can move mountains and break down barriers.
The film's pace is just right, and the story unfolds beautifully. The acting is top-notch, and the characters are well-drawn, allowing the audience to empathize with them.
This is a film that truly captures the essence of a mother's love, and it does so without being overly sentimental. The film explores the lengths that a mother would go to protect her child and how that love can empower and drive a mother to do the impossible.
In conclusion, Little Girl Lost: The Delimar Vera Story is a film that is both heart-warming and heart-wrenching, a film that will tug at your heartstrings and leave you in awe at the strength of a mother's love. The film is a testament to how sheer determination and love can overcome even the most impossible of obstacles.
Little Girl Lost: The Delimar Vera Story is a 2008 drama with a runtime of 1 hour and 29 minutes. It has received mostly positive reviews from critics and viewers, who have given it an IMDb score of 6.7.