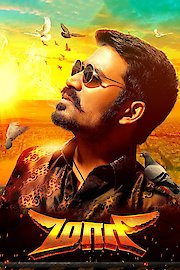 Watch Maari
NR
2015
2 hr 18 min
Maari is a 2015 Tamil action-comedy film directed by Balaji Mohan and starring Dhanush, Kajal Aggarwal, and Vijay Yesudas in lead roles. The film tells the story of a local don named Maari, who leads a group of henchmen and is known for his carefree attitude and notorious activities in his area. However, his life takes a dramatic turn when a new police officer joins the force targeting Maari's criminal activities.
The movie opens with Maari (played by Dhanush) ruling his local area in Chennai with his gang, which includes his close friend Sanikilamai (played by Robo Shankar). The story showcases Maari's extravagant lifestyle, his love for his pigeons, and his notorious activities such as illegal trade in cigarettes and rowdyism, among others. However, his activities attract the attention of the new police officer Arjun (played by Vijay Yesudas), who is determined to put an end to Maari's criminal activities.
Despite his initial efforts, Arjun fails to catch Maari due to the latter's intelligence and influence in the area. Meanwhile, Maari falls in love with a local entrepreneur named Sridevi (played by Kajal Aggarwal), who initially rejects his advances but eventually reciprocates his feelings. However, their love story faces a hurdle when Sridevi's father comes to know about Maari's criminal background and opposes their relationship.
As the story progresses, Arjun tries various ways to catch Maari, and Sridevi tries to convince her father to accept their relationship. At the same time, Maari has to face other obstacles such as rival gangs, betrayal within his own gang, and a mysterious don who challenges his supremacy in the area. The climax of the story involves a high-octane action sequence that keeps the audience at the edge of their seats.
The movie features a strong performance by Dhanush, who delivers an electrifying performance as Maari. He effortlessly portrays the character's swag, style, and charisma, which make him a fan-favorite. Kajal Aggarwal looks stunning as Sridevi and delivers a decent performance. Vijay Yesudas impresses in his role as the police officer who is determined to catch Maari. The rest of the cast, including Robo Shankar, Kalloori Vinoth, and Mime Gopi, do justice to their respective roles.
The movie's music, composed by Anirudh Ravichander, is one of its highlights. The songs, including "Don'u Don'u Don'u" and "Bagulu Odayum Dagulu Mari," became instant hits and are still popular among the audience. The movie also has some well-choreographed action sequences, which add to the overall appeal of the movie.
Maari is a typical masala entertainer that has all the elements of an entertaining movie. It has comedy, romance, action, and drama, all packaged in a way that makes it an enjoyable watch. Balaji Mohan's direction and Dhanush's performance make this movie a must-watch for fans of the Tamil film industry.
Maari is a 2015 action movie with a runtime of 2 hours and 18 minutes. It has received moderate reviews from critics and viewers, who have given it an IMDb score of 6.3.