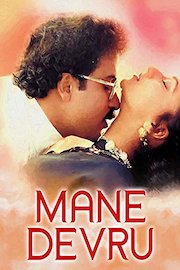 Watch Mane Devru
NR
1993
2 hr 14 min
Mane Devru is a 1993 Indian Kannada-language drama film directed by V. Somashekhar. Starring K.S. Ashwath, Sadashiv Brahmavar, and Sanketh Kashi in pivotal roles, the movie tells the heartwarming tale of love, family, and societal issues. With its relatable characters and emotional storyline, Mane Devru captivates audiences with its poignant narrative and thought-provoking themes.
Set in a small village in Karnataka, Mane Devru revolves around the life of Rudresh (played by Sadashiv Brahmavar), a compassionate young man hailing from a humble background. Rudresh embodies the values of honesty, empathy, and loyalty, striving to make a positive difference in the lives of those around him.
The story takes a dramatic turn when Rudresh falls in love with Geetha (played by Sanketh Kashi), a woman belonging to a wealthy family. Geetha's family strongly disapproves of their relationship due to the vast difference in their social status. Determined to overcome the obstacles standing in their way, Rudresh and Geetha decide to fight for their love and face the challenges that come their way.
K.S. Ashwath portrays the character of Guru, an elderly man who serves as a guiding force and mentor to Rudresh. Guru's wise and compassionate demeanor provides a strong moral compass for the young couple, and his presence lends depth and wisdom to the narrative. Through his interactions with Rudresh, Guru highlights the importance of love, understanding, and perseverance.
As the story unfolds, Mane Devru delves into several social issues prevalent in society. It sheds light on the disparities created by class differences and questions the importance society places on material wealth over genuine human connections. The film sensitively touches upon themes of social discrimination, family dynamics, and the power of love to bridge societal gaps.
The captivating performances by the lead actors add depth and authenticity to the film's narrative. Sadashiv Brahmavar portrays Rudresh with great conviction, beautifully capturing his struggles, determination, and unwavering love for Geetha. Sanketh Kashi delivers a remarkable performance as Geetha, exuding both vulnerability and strength as she confronts the challenges that come with societal expectations. The chemistry between Brahmavar and Kashi is palpable, creating a believable and heartfelt romance on screen.
The film's visual aesthetics and captivating cinematography transport the audience to the idyllic village setting. With its lush landscapes, vibrant festivals, and intricately designed sets, Mane Devru brings the beauty of rural Karnataka to life on the silver screen. The music, composed by M. Ranga Rao, perfectly complements the story, enhancing the emotions and capturing the essence of each scene.
Mane Devru is a film that resonates with viewers on an emotional level, exploring universal themes of love, sacrifice, and resilience. It serves as a reminder of the power of human connections and the importance of staying true to oneself, even in the face of adversity.
In conclusion, Mane Devru is a poignant and heartwarming Kannada film that leaves a lasting impact on its audience. With its engaging narrative, powerful performances, and thought-provoking themes, the movie successfully captivates viewers while shedding light on relevant social issues. It stands as a testament to the enduring power of love and the resilience of the human spirit.
Mane Devru is a 1993 romance movie with a runtime of 2 hours and 14 minutes.