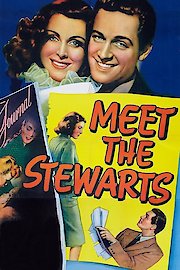 Watch Meet The Stewarts
Approved
1942
1 hr 13 min
Meet the Stewarts is a delightful romantic comedy from 1942 that tells the story of Jeff and Jane Stewart, a newlywed couple struggling to adapt to their new life together. The film stars the charismatic William Holden as Jeff, and the lovely Frances Dee as Jane. Jeff is a down-to-earth mechanic who has recently returned from serving in the army during World War II. He is eager to start his new life with his beautiful wife, Jane, whom he met while he was stationed overseas. Jane, on the other hand, is a sophisticated and cultured woman, who comes from a wealthy family. She is a bit out of her element in her new life with Jeff, but she is determined to make it work.
The movie begins with Jeff and Jane returning from their honeymoon and moving into their new home. Jeff is excited to start fixing up the house and making it their own, while Jane is more interested in decorating and entertaining guests. As they try to settle into their new life together, they encounter a number of comical mishaps and misunderstandings.
One of the biggest challenges they face is adjusting to each other's friends and family. Jeff has a best friend named Slim, played by the lovable Eddie Bracken, who is always getting into trouble. Jane, on the other hand, has a mother who is constantly meddling in their affairs. The clash between Jeff's rough-and-tumble circle of friends and Jane's high-society acquaintances provides plenty of entertaining moments throughout the film.
Another obstacle they face is financial difficulties. Jeff is working hard to build up his mechanic business, but money is tight. Jane's parents offer to help them out, but Jeff is too proud to accept their charity. Instead, he comes up with a plan to raise money by organizing a charity event – a dance to benefit war veterans. This brings them closer together as a couple as they work together to make the event a success.
One of the highlights of the film is the chemistry between Holden and Dee. Their on-screen relationship is believable and charming, and you can't help but root for them as they navigate the ups and downs of their new marriage. Holden's trademark grin and Dee's luminous beauty make them a joy to watch, and their performances are truly captivating.
The supporting cast is also first-rate, with Grant Mitchell as Jane's overbearing father, and Fay Holden as her meddling mother. Eddie Bracken steals every scene he's in as Slim, Jeff's hapless friend. Other notable performances include minor roles for well-known character actors such as Hattie McDaniel, who won an Oscar for her role in Gone with the Wind, and John Qualen.
The film was directed by Alfred E. Green, a prolific director who directed over 100 films during his career. Meet the Stewarts was one of his more lighthearted efforts, and it's clear that he had a knack for comedy. The film is well-paced, with plenty of laughs and poignant moments sprinkled throughout.
Overall, Meet the Stewarts is a charming and enjoyable romantic comedy from the 1940s. The chemistry between the two leads is terrific, the supporting cast is strong, and the direction is competent. While it may not be as well-known as some of Holden's later films, it's a wonderful example of the kind of lighthearted fare that was popular during the era. If you're a fan of classic Hollywood romance, then Meet the Stewarts is definitely worth a watch.
Meet The Stewarts is a 1942 comedy with a runtime of 1 hour and 13 minutes. It has received moderate reviews from critics and viewers, who have given it an IMDb score of 6.1.