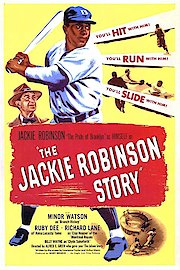 Watch The Jackie Robinson Story
"You'll HIT With Him! You'll RUN With Him! You'll SLIDE With Him!"
Approved
1950
1 hr 16 min
Jack Roosevelt Robinson's love for baseball began when he was 9-years-old and given a worn out baseball glove as a present. As the years passed, 26-year-old Jackie joined the Negro Leagues. He quickly became dissatisfied with them and decided to tryout for the Major Leagues. Unfortunately, the Major Leagues did not accept blacks on their team. It didn't matter that in 47 games with the Monarchs, Robinson had a .387 hitting average, five home runs, and 13 stolen bases. He was not white. Jackie was aggregated with the Red Sox's phony desegregation tryouts. Next, Jackie Robinson tried the Brooklyn Dodgers.