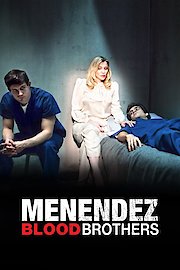 Watch Menendez: Blood Brothers
TV-14
2017
1 hr 27 min
Menendez: Blood Brothers is a thrilling, true-to-life movie that examines the events leading up to the gruesome murder of Jose and Kitty Menendez by their own sons, Lyle and Erik Menendez. The movie is directed by Fenton Bailey and Randy Barbato and stars Nico Tortorella, Courtney Love, and Benito Martinez. The movie is set in the late 1980s and early 1990s in Beverly Hills, California. Lyle and Erik Menendez are two wealthy, privileged brothers who have grown up in a dysfunctional family. Their father, Jose Menendez, is an entertainment executive who is often absent from home due to work, while their mother, Kitty Menendez, is a stay-at-home mom who is struggling with alcoholism and depression. Their family is plagued by secrets, lies, and abuse, and the two brothers have developed a close bond as they try to cope with the trauma of their childhood.
However, things take a gruesome turn when on August 20, 1989, Lyle and Erik Menendez brutally murdered their parents in their Beverly Hills mansion. The movie explores the trial and media frenzy that followed, as well as the complex relationship between the two brothers and their parents.
Nico Tortorella delivers a powerful performance as Lyle Menendez. He portrays Lyle as a complex and troubled individual who is trying to deal with the emotional scars of his past. He is deceptive, yet charming, and his motives are often difficult to decipher. Tortorella manages to capture the inner turmoil of Lyle and makes his character both empathetic and terrifying.
Courtney Love also delivers a standout performance as Kitty Menendez. She portrays Kitty as a deeply flawed individual who is struggling with her own demons. Love manages to convey the pain and desperation of a woman who is trapped in a toxic marriage and is trying to numb her pain with alcohol. The portrayal is sensitive and nuanced, and Love delivers a heartbreaking performance.
Benito Martinez is also impressive as Jose Menendez. He portrays Jose as a cold and distant figure who is more concerned with his own career than the wellbeing of his family. Martinez brings a sense of gravitas to the role and makes the character more than just a one-dimensional villain.
The movie is gripping and intense, with scenes that are both disturbing and emotionally charged. The directors manage to capture the claustrophobic and suffocating atmosphere of the Menendez family home, and they use close-ups and slow-motion shots to great effect.
Overall, Menendez: Blood Brothers is a must-watch for anyone interested in true-crime stories. The movie is dark, intense, and emotionally charged. The powerhouse performances by the cast, especially Tortorella, Love, and Martinez, elevate the movie from a standard true-crime fare to a gripping character study. The movie is a stark reminder of the dark side of the human psyche and the devastating impact of abuse and trauma.
Menendez: Blood Brothers is a 2017 drama with a runtime of 1 hour and 27 minutes. It has received moderate reviews from critics and viewers, who have given it an IMDb score of 5.8.