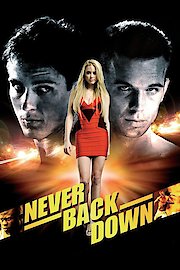 Watch Never Back Down
"Win or lose... Everyone has their fight."
PG-13
2008
1 hr 55 min
39
Never Back Down is an action film that premiered on March 14, 2008. The film showcases the Mixed Martial Arts fighting style, and focuses on the effects that viral YouTube videos can have on school student's. Jake Tyler has recently relocated to Orlando, Florida from Iowa with his younger brother, Charlie, and mother, to help Charlie jump start professional tennis career. In Iowa, Jake was known around town as the star athlete on the football team, but in Orlando, Florida he's yet to prove himself to be nothing other than a having a short temper. After Jake is invited to a party by a fellow classmate, Jake again runs into trouble with another student, Ryan who studies martial arts. Jake initially refuses to fight until Ryan talks about his father who passed away. Jake doesn't win the fight, but Max Cooperman, who later becomes one of Jake's best friends introduces himself to his mentor, Jean Roqua, a Mixed Martial Arts instructor. Roqua acpets Jake as a student, but only if he agrees to never fight outside of the gym, Jake agrees but knows he plans to challenge Ryan in the future. After a fight with Jake showcasing his new skills gets around school, Ryan challenges Jake to compete in a fight known around the school as the Beatdown, an illegal fighting tournament, with Ryan as the current champion. Sean Faris takes the leading role as Jake Tyler, the new kid in town. His mother, Margot Tyler is played by Leslie Hope and his younger brother portrayed by Wyatt Smith. Max Cooperman is played by Evan Peters, the friend who introduces him to the MMA instructor, Jean Roqua played by Djimon Hounsou, while Jake's rival is played by Cam Gigandet. The filming of Never Back Down was shot completely in south Orlando, Sanford, as well as Clermont, Florida. Each of the school scenes were shot on the Cypress Creek High School campus. All but the football scenes during the beginning of the film, which was filmed at East Ridge High School. Chris Hauty, the screenwriter, decided to write the film after he watched son revealed some videos to him of various school fights, along with fights from his school, that were placed on YouTube. The film features music tracks produced by artists such as DJ Tiesto, Kanye West, My Chemical Romance and The Cribs.