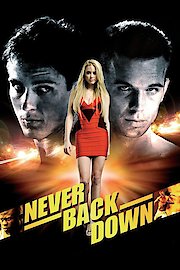 Watch Never Back Down
"Win or lose... Everyone has their fight."
PG-13
2008
1 hr 55 min
39
Never Back Down is a 2008 action drama film directed by Jeff Wadlow, starring Sean Faris, Djimon Hounsou, and Amber Heard in lead roles. The movie follows Jake Tyler (Sean Faris), a rebellious teenager who moves from Iowa to Orlando, Florida with his family. There, he becomes involved in the underground world of Mixed Martial Arts fighting after being beaten up by a rival at a party. Jake is initially reluctant to take part in MMA fighting. But after being introduced to Jean Roqua (Djimon Hounsou), a former MMA fighter who now trains students in his gym, Jake realizes that the sport is not just about brute force but also requires discipline, control, and strategy. Roqua becomes Jake's mentor, guiding him through rigorous training and teaching him the importance of discipline and focus. Meanwhile, Jake gets into a conflict with Ryan McCarthy (Cam Gigandet), the reigning MMA champion in his high school. Ryan is a ruthless fighter, backed by a wealthy father and a group of followers who are willing to do anything for him. Jake's challenge to Ryan's authority sets off a chain of events that leads to a final showdown between the two fighters. As the story moves forward, Jake's personal life becomes intertwined with his MMA training. He meets Baja Miller (Amber Heard), who is also Ryan's ex-girlfriend. Their relationship is complicated as Baja's loyalty to Ryan puts Jake in danger at times. Jake also deals with his own inner demons and struggles to overcome his anger issues which he brought with him from Iowa. Never Back Down is a film about redemption, self-discovery, and the power of commitment. The movie combines the excitement of MMA fighting with the emotional depth of a coming-of-age story. It depicts the struggles and challenges young people face in their personal and professional lives, and how turning to the right mentor can make all the difference. The film features intense, well-choreographed fighting scenes that are sure to thrill MMA enthusiasts. The training sequences are also well done, highlighting the grit and determination required to succeed in the sport. Sean Faris delivers a solid performance as Jake Tyler. He brings a sense of vulnerability to the character, portraying him as someone who has been hurt and is looking for a way to regain his confidence. Djimon Hounsou is exceptional as Jean Roqua, bringing a sense of gravitas to the role with his commanding presence. Amber Heard's performance as Baja is also noteworthy. She brings a sense of complexity to the character, making her a three-dimensional figure rather than a shallow love interest. She plays Baja as someone who is loyal to those she cares about, but also struggling with her own issues. In conclusion, Never Back Down is an entertaining film that combines action, drama, and romance. It offers an insight into the world of MMA fighting and features a strong cast delivering solid performances. The movie is not without its flaws, but it succeeds in telling an engaging story about the power of self-improvement and the importance of finding the right mentor. If you're a fan of MMA films or coming-of-age stories, you won't want to miss this one.