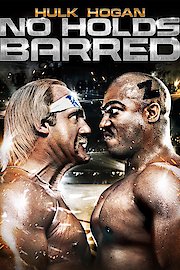 Watch No Holds Barred
"No Ring. No Ref. No Rules."
PG-13
1989
1 hr 33 min
31
Rip is the most popular and successful professional wrestler in the world. Trying to capitalize on that, Brell, the owner of a large TV network, attempts to lure Rip away from his network to work for him. Rip refuses, but Brell will not take no for an answer. He sends a gang of thugs to attack Rip, but they prove mo match for the champion wrestler. Brell then uses one of his employees, Samantha, to try and seduce Rip into working for his network. But Rip, whose big, muscular exterior hides a heart of gold, is able to turn Samantha against Brell. But the TV exec is not done with his plans to destroy Rip. After visiting a seedy bar whose featured spectacle is brawling, Brell comes up with a new show called The Battle of the Tough Guys. His star is Zeus, a giant bruiser who destroys every fighter in his path. Brell's goal is to have Zeus and Rip square off in the battle of the century.