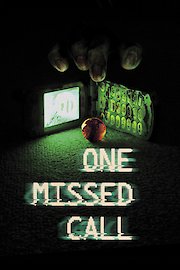 Watch One Missed Call
"Death cannot be put on hold..."
R
2008
1 hr 52 min
54
One Missed Call is the classic horror movie about a girl who has a friend who receives messages over her phone. This girl is slightly paranoid to begin with, but when her friend receives a call from her own cell phone and then dies 72 hours later, she becomes even more hysterical. The friend dies only a few moments after receiving another phone call placed to her cell phone. There are other people who are experiencing this same phenomenon. A spirit of a woman who wants to take revenge on others is making her presence known by calling cell phones. The spirit is going through the phone books of the people she kills, making sure they meet a grisly death. The young girl soon discovers that she is more involved with the spirit than she wants to be, and the next phone call she accepts could be the last one for her.