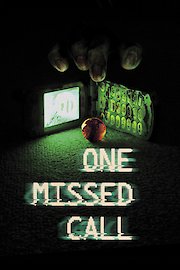 Watch One Missed Call
"Death cannot be put on hold..."
R
2008
1 hr 52 min
54
One Missed Call is a 2003 horror movie directed by Takashi Miike, based on a novel by Yasushi Akimoto. The movie stars Ko Shibasaki as Yumi Nakamura, a young woman who investigates a series of bizarre and horrifying deaths caused by mysterious phone calls that predict the victim's eventual demise. The movie begins with a young girl named Mimiko receiving a strange phone call from her future self, warning her of her own death. Mimiko is understandably frightened and tells her friend Yoko about the call. The next day, Mimiko dies in a freak accident while taking a bath. Yoko receives a similar phone call, and her friends Natsumi and Yumi become involved in the investigation. They discover that Mimiko's death was not an accident, but a murder, and that the phone call was somehow responsible. As more and more people receive the phone calls, Yumi and her friends race against time to uncover the truth behind the mysterious voice that seems to be predicting their deaths. Along the way, they encounter a journalist named Yamashita, who joins them in their quest for answers. The tension builds as the characters realize that the phone calls are not just a coincidence, but a supernatural force that is targeting them one by one. The phone calls are coming from beyond the grave, from the spirits of those who have died under mysterious circumstances. The horror in One Missed Call is not just in the deaths themselves, but in the psychological terror of the characters as they try to avoid their grisly fate. The movie is full of suspenseful moments, such as when Yoko desperately tries to avoid the same fate as Mimiko by hiding in her apartment, only to be attacked by an unseen force. The movie also explores themes of grief and loss, as the characters confront the deaths of their loved ones and struggle to come to terms with their own mortality. There are also moments of dark humor, such as when Yumi receives a phone call predicting her death while she is in the midst of a drunken karaoke session. The performances in One Missed Call are top-notch, particularly Ko Shibasaki as the determined and resourceful Yumi. Shin'ichi Tsutsumi provides comic relief as the bumbling journalist Yamashita, while Kazue Fukiishi is heartbreaking as the grieving Natsumi. The cinematography is also notable, with Takashi Miike using inventive camera angles and surreal imagery to heighten the sense of dread. The score by Kôji Endô is haunting and memorable, particularly the eerie use of a children's song that plays whenever the phone rings. Overall, One Missed Call is a well-crafted horror movie that combines supernatural terror with psychological thrills. The movie builds to a shocking climax that will leave audiences reeling. Highly recommended for fans of J-horror and anyone who wants to be scared out of their wits.