Watch Sukiyaki Western Django
In Sukiyaki Western Django , a gunman finds himself in the middle of a gang war in the western town of Yuta. He decides to use their own feud to his advantage, but finds there is more to the gang war than gold and gets tangled in the war further than he intended. The story may sound familiar, but Sukiyaki Western Django is not your father's western by a long shot.
The movie is set on the proper sandy, western landscape and has the hardened, violent characters of a typical western genre film which lends well to Takashi Miike's talent for fierce films. However he also lets his unique style be seen throughout the movie in other ways. For example, the appearance of Quentin Tarantino as Piringo may seem like an odd choice among the otherwise Asian cast, but yet he fits perfectly into the over-the-top tone of the film. Sukiyaki Western Django has the body count and drama that you would want from a spaghetti western and yet the outrageous flare fans of Takashi Miike have come to expect.
|
2007
|
2 hr 1 min
|

/

10
Cast

Studio

Director

Takashi Miike

Language

English
Sukiyaki Western Django News
Quentin's Fresh Prince? Will Smith Being Considered for Tarantino's 'Django Unchained'
May 07, 2011 @ 12:09 pm PST
|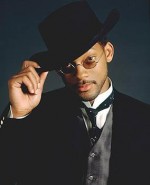 How about this for a dream team: Quentin Tarantino and Will Smith, working together in a blockbuster western action film. It could happen, as Smith is currently the frontrunner to play the lead in Tarantino's recently announced "Django Unchained." Apparently, Tarantino wants Smith for the role and the script has already been delivered to Smith's reps. If Smith accepts, he would be playing the role of Django, a freed slave who becomes an expert bounty hunter under the tutelage of a German mercenary.
Read More

Get the Scoop on Quentin Tarantino's New Movie 'Django Unchained'
May 02, 2011 @ 2:45 pm PST
|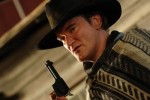 From "Reservoir Dogs" to "Kill Bill," Quentin Tarantino's style has always been heavily influenced by Spaghetti Westerns, and Italian director Sergio Leone in particular. Now comes news that he's going to get more literal about the whole deal. IndieWire reported this week that Tarantino is moving ahead with a new film "Django Unchained," using finished script inspired by the work the director did as an actor on Takashi Miike's 2007 film "Sukikyaki Western Django," itself inspired by a series of Italian films from the 60's and 70's.
Read More


Watch Sukiyaki Western Django Trailer

Watch Sukiyaki Western Django Online - Watch online anytime anywhere: Stream, Buy, Rent
Sukiyaki Western Django is currently available to watch and stream, buy, rent on demand at Amazon, YouTube VOD online.