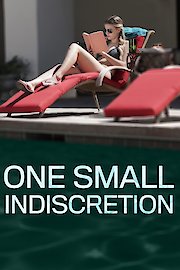 Watch ONE SMALL INDISCRETION
TV-14
2017
1 hr 30 min
One Small Indiscretion is a dramatic thriller from the year 2017, that tells the story of a mother's desperate search for her missing daughter. The film is directed by Lauro Chartrand, and stars Ashley Scott, Tiera Skovbye and Cru Ennis in the lead roles. The story revolves around a mother named Jackie, played by Ashley Scott, who has a perfect life with her husband and two kids. However, all of that changes when her daughter is kidnapped by an unknown assailant. Jackie is left in despair as she tries to find her daughter with the help of the local authorities.
As she digs deeper, Jackie uncovers some shocking truths about her daughter's life. She discovers secrets that her daughter was hiding from her and things that she never imagined were going on in her perfect family. Along the way, Jackie has to deal with her own personal issues that she has been neglecting for years.
The film explores themes of love, loss, grief, and regret. Ashley Scott delivers an impressive performance as a distraught mother who will stop at nothing to find her daughter. Tiera Skovbye, who plays the daughter, also delivers a powerful performance as a young girl struggling to keep her secrets hidden.
The movie moves at a steady pace, and the tension builds up gradually as the story unfolds. The twists and turns of the plot keep the audience guessing until the very end. The climax of the film is both exhilarating and emotional, leaving the audience satisfied with the resolution.
Apart from the captivating storyline, the cinematography and the soundtrack of the film are noteworthy. The stunning locations and camera work add to the overall appeal of the film. The music score complements the mood of the story and enhances the emotional impact.
Overall, One Small Indiscretion is an engaging thriller that keeps the audience on the edge of their seats. The strong performances, compelling storyline, and impressive cinematography make it a must-watch for fans of the genre. Though the movie is definitely intense and dramatic, its message of hope and redemption make it a heartwarming experience as well.
ONE SMALL INDISCRETION is a 2017 thriller with a runtime of 1 hour and 30 minutes. It has received moderate reviews from critics and viewers, who have given it an IMDb score of 5.2.