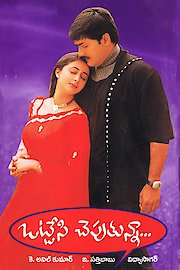 Watch Ottesi Cheputunna
NR
2003
2 hr 36 min
Ottesi Cheputunna is a 2003 Indian Telugu-language film directed by E. Satti Babu and produced by M. R. V. Prasad. The movie features Srikanth, Kaniha, and Sivaji in lead roles. The film revolves around the character of Srikanth, who plays the role of a young and handsome man belonging to a middle-class family. He is a kind-hearted person and is liked by everyone in the neighborhood. However, he often gets into trouble due to his generosity, as he has to face the ill intentions of the people around him.
Kaniha plays the character of a beautiful girl who falls in love with Srikanth. Sivaji, on the other hand, plays the role of a rich businessman who is obsessed with Kaniha and wants to marry her at any cost.
The story takes a turn when Srikanth gets into a financial crisis and is unable to repay his debts. He then turns to a local goon for help, who lends him the money on the condition that Srikanth would have to do a favor for him in return.
Srikanth agrees to the deal and soon finds himself involved in a dangerous game of crimes and deceit. He is accused of several murders, and the police are after him. Meanwhile, Kaniha is kidnapped by Sivaji's henchmen, and Srikanth is forced to make a choice between saving her and proving his innocence.
The movie is full of suspense, thrill, and drama. The storyline is well-crafted and keeps the audience engrossed in the plot. The cinematography is visually appealing, and the music is catchy and foot-tapping.
Srikanth delivers a stellar performance and showcases his versatility as an actor. Kaniha's acting is also impressive, and she shines in her role as a damsel in distress. Sivaji, as the cunning villain, brings depth and intensity to his character.
Overall, Ottesi Cheputunna is a must-watch movie for fans of Telugu cinema. It is a gripping tale of love, betrayal, and redemption, and will keep you on the edge of your seat until the very end.
Ottesi Cheputunna is a 2003 romance movie with a runtime of 2 hours and 36 minutes. It has received mostly positive reviews from critics and viewers, who have given it an IMDb score of 6.8.