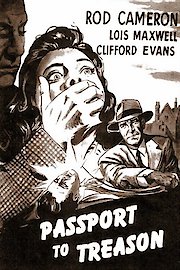 Watch Passport To Treason
NR
1956
1 hr 20 min
In the 1956 film Passport To Treason, directed by Ken Hughes, we follow the story of an American investigator, Steve Burden (played by Rod Cameron), who gets pulled into a dangerous mission when he is asked to help find a missing scientist who has been working on a top-secret government project. The scientist, Dr. Harding (played by Sam Kydd), has disappeared along with his daughter Penelope (played by Lois Maxwell), who Burden quickly develops romantic feelings for. Burden soon finds himself embroiled in a complex international conspiracy involving several different governments, all competing for access to Dr. Harding's work.
The film is set during the height of the Cold War, and tensions between the United States and the Soviet Union are fraught. Dr. Harding's research is of critical importance to both sides, and the race to find him and his work before the other side does is a matter of national security.
Lois Maxwell's Penelope, meanwhile, is caught in the middle of the conflict, unsure of who to trust and constantly in danger. Her character is an interesting addition to the story, providing a more personal angle to the espionage narrative.
Clifford Evans plays the villainous Rostov, who plays a key role in the plot to steal the scientist's work. His performance is menacing and calculating, exuding a sense of danger that perfectly captures the paranoia and fear of the era.
The film's action sequences are tense and well-executed, with some thrilling moments of espionage and intrigue. The cinematography, too, is impressive, with some well-framed shots and creative camera angles.
However, the real standout of Passport To Treason is its script. Written by Paul Ryder and Ken Hughes himself, the screenplay is gripping and tightly-woven, with plenty of twists and turns to keep the audience on their toes. The film keeps a steady pace throughout, ensuring that the tension never wavers and the story remains engaging from start to finish.
Another notable aspect of the film is its use of international locations. The story takes place in several different countries throughout Europe, and the film takes full advantage of this by showcasing some stunning scenery and architecture. The result is a movie with a real sense of scope and scale, offering a glimpse into a world far beyond the limits of the everyday.
All in all, Passport To Treason is an impressive thriller that stands the test of time. Its combination of espionage, romance, and action makes for an entertaining ride, and its nuanced portrayal of the Cold War era adds an extra layer of depth. If you're a fan of old-school spy movies, this one comes highly recommended.