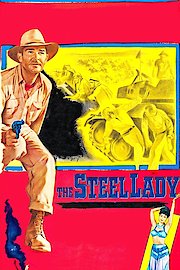 Watch The Steel Lady
"Searing Sahara-Hot Adventure!"
NR
2014
1 hr 25 min
"The Steel Lady" (1953) is a thrilling adventure film directed by Ewald André Dupont and starring Rod Cameron, Tab Hunter, and John Dehner. Set in the dense jungles of Central America, the movie follows the journey of a daring group of American treasure hunters who stumble upon a mysterious golden statue known as the "Steel Lady."
Cameron stars as Mike Monahan, a tough and rugged adventurer who takes on the challenge of finding the valuable artifact. He is joined by youthful and eager college student George Steele, played by Hunter, and the wise and experienced jungle guide Gil Walker, portrayed by Dehner.
Together, the trio embarks on an action-packed expedition through the dangerous and uncharted landscapes of the jungle. They face various obstacles and dangers, including wild animals, treacherous terrain, and hostile natives who guard the hidden treasures.
As the group gets closer to their ultimate goal, they discover that the "Steel Lady" is indeed a valuable artifact that holds a dark secret. Soon, they must battle not only the harsh natural elements and local tribes but also a group of ruthless bandits who will stop at nothing to get their hands on the golden statue.
The film boasts stunning cinematography, capturing the beauty and danger of the jungle in vivid detail. The rugged terrain becomes a character in itself, as the adventurers must navigate through treacherous waterfalls, dense foliage, and sheer cliffs to reach their destination.
The performances are top-notch, with Cameron delivering a powerful and commanding presence as the rough-and-tumble Monahan. Hunter provides the perfect counterbalance, offering youthful innocence and a sense of wonder in the face of danger. And Dehner brings gravitas and wisdom to his role as the seasoned guide.
The supporting cast is equally impressive, featuring strong performances from Kathleen Hughes as a local bar owner, Peter Mamakos as the ruthless leader of the bandits, and Richard Webb as a former member of Monahan's team who joins the expedition.
In addition to the heart-stopping action and stunning visuals, "The Steel Lady" also explores deeper themes of greed, ambition, and redemption. As the adventurers pursue their quest for wealth, they are forced to confront their own motivations and character flaws, leading to an explosive and unforgettable climax.
Overall, "The Steel Lady" is a classic adventure film that will keep viewers on the edge of their seats. With its strong performances, breathtaking visuals, and thrilling action sequences, it is a must-see for fans of the genre and anyone who loves a good adventure story.
The Steel Lady is a 2014 action movie with a runtime of 1 hour and 25 minutes. It has received moderate reviews from critics and viewers, who have given it an IMDb score of 6.4.