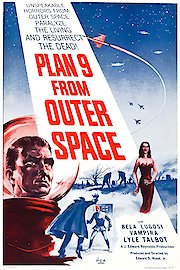 Watch Plan 9 from Outer Space
"Unspeakable horrors from outer space paralyze the living and resurrect the dead!"
NR
1959
1 hr 19 min
Infamous director Ed Wood presents one of the goofiest B-movies ever made. When aliens invade Earth, humans struggle to survive attacks from the creatures and their deadly UFOs. Along with the attacks from the aliens, they use special powers to resurrect Hollywood stars from the dead. The mish-mash of aliens and zombies creates a campy film that has become a cult classic.