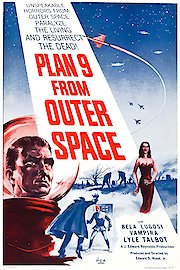 Watch Plan 9 from Outer Space
"Unspeakable horrors from outer space paralyze the living and resurrect the dead!"
NR
1959
1 hr 19 min
56
In 1957, director Ed Wood released his science fiction film Plan 9 from Outer Space. Often regarded as one of the worst movies ever made, the film has gained a cult following for its unintentionally hilarious dialogue and special effects. The plot of the movie centers around aliens from another planet who are concerned about humanity's use of atomic energy. In order to protect the universe, they decide to raise the dead with their "plan 9" in order to stop humanity's destructive ways. The film is put together with a cast of relatively unknown actors who deliver wooden performances throughout. The main character, Jeff Trent, is played by Gregory Walcott, who portrays his role with an intense seriousness that contrasts with the absurdity of the script. The film also features a subplot involving a couple, played by Tom Keene and Mona McKinnon, who are investigating strange occurrences in their town. The couple's investigation leads them to the alien's plan 9, and they must race against time to stop the aliens' plan before it's too late. Despite the serious nature of the plot, the film is largely remembered for its special effects, which are incredibly outdated by today's standards. For example, the aliens are seen floating from their spaceships on clearly visible wires, and the flying saucers are represented by cheap models that are hung from strings and swung back and forth in front of the camera. Additionally, the dialogue in the film is notoriously bad, often delivering lines that are so awkward and stilted that they become unintentionally funny. Perhaps the most famous line from the film comes when a character says, "Greetings, my friends. We are all interested in the future, for that is where you and I are going to spend the rest of our lives." In spite of its flaws, Plan 9 from Outer Space has become a beloved film among fans of bad cinema. Despite the ridicule it has received, the film remains a testament to Ed Wood's passion for storytelling and his adaptation of science fiction. In conclusion, Plan 9 from Outer Space is a science fiction film that is notorious for its poor special effects and cheesy dialogue. While the film was not successful upon release, it has since gained a loyal following for its unintentional humor and has become a cult classic in the world of bad cinema.