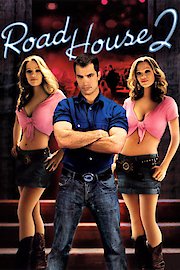 Watch Road House 2: Last Call
"Take It Outside..."
R
2006
1 hr 26 min
Road House 2: Last Call is a 2006 action film and a sequel to the 1989 hit movie Road House. The film stars Johnathon Schaech as Shane Tanner, a former Navy SEAL turned bouncer who returns home to his family's bar in Louisiana after his uncle is brutally murdered. Once there, Shane discovers that the bar is struggling and under threat from corrupt businessman Wild Bill (Jake Busey), who wants to buy the bar to add it to his collection of seedy establishments. To make matters worse, Wild Bill's enforcer, Ice (Richard Norton), is a deadly martial artist with a personal vendetta against Shane. With the help of his old flame and fellow bouncer, Beau (Ellen Hollman), Shane sets out to protect his family's legacy and take down Wild Bill and his gang of thugs. Along the way, there are plenty of high-octane fight scenes, car chases, and explosive set pieces as Shane battles his way to victory. Despite the similarities to the original Road House, Road House 2: Last Call manages to stand on its own as an enjoyable, if somewhat predictable, action movie. Johnathon Schaech delivers a solid performance as the tough and brooding Shane Tanner, while Ellen Hollman provides a welcome dose of femininity and wit as Beau. The action scenes are well choreographed and intense, with a focus on martial arts and hand-to-hand combat. Richard Norton is particularly impressive as Ice, the ruthless villain who gives Shane a run for his money in the fighting department. Jake Busey is suitably slimy as Wild Bill, even if his character is somewhat one-dimensional and lacking in depth. One of the standout aspects of Road House 2: Last Call is its sense of nostalgia for the original movie. There are several nods and references to the first film, from the famous "pain don't hurt" line to a cameo from Kelly Lynch, who played Dalton's love interest in the original Road House. Fans of the original movie will no doubt appreciate these nods, while newcomers to the franchise will be able to enjoy Road House 2: Last Call on its own merits. While the movie is not without its flaws, including some clunky dialogue and a few cringe-worthy moments, it is a fun and entertaining ride from start to finish. Director Scott Ziehl keeps the pacing brisk and the action coming, never allowing the movie to drag or become dull. The Louisiana setting also adds a unique flavor to the movie, with the bar and its patrons feeling like authentic characters in their own right. All in all, Road House 2: Last Call is a solid action movie that delivers plenty of thrills and spills. While it may not live up to the high standards set by the original Road House, it is a worthy successor that will satisfy fans of the genre. If you're in the mood for some mindless action and a healthy dose of nostalgia, Road House 2: Last Call is well worth checking out.