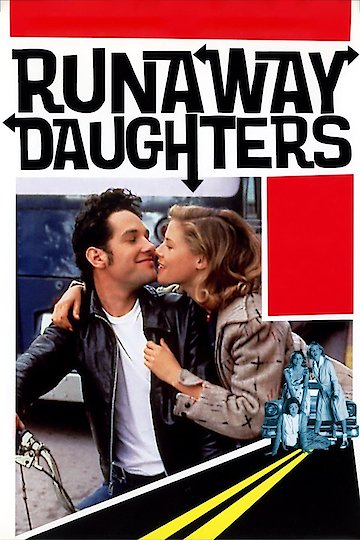 Watch Runaway Daughters
"They Were Looking For Adventure... But Found Trouble Instead!"
PG-13
1994
1 hr 23 min
Runaway Daughters is an engaging comedy-drama film from 1994 that follows three teenage girls as they embark on an adventure from Los Angeles to Salem, Oregon. The movie stars Julie Bowen, Holly Fields, and Jenny Lewis, with Paul Rudd and Chris Young in supporting roles. The story takes place in the 1950s and revolves around three friends, Angie (Bowen), Mary (Fields), and Laura (Lewis), who can't seem to stay out of trouble. The movie opens with the girls stealing a car and driving it recklessly around the city. Angie, who is the group's leader, comes up with the idea of running away from home and takes her friends with her. Their destination is Salem, Oregon, where Angie's grandmother lives. Angie convinces her friends that they can start a new life in Salem and have more freedom. The three leave without telling their parents, hoping to prove their independence and make their own decisions. Along the way, the girls have several encounters with people who give them advice and offer them a helping hand. They also dodge the police who are looking for them and try to stay out of trouble. Once the girls arrive in Salem, they discover that life is not as easy as they thought it would be. They have to find jobs and a place to stay, and they struggle to make ends meet. The three encounter several challenges that test their friendship and their trust in each other. They also learn some important life lessons along the way. Julie Bowen plays Angie, the leader of the trio. She is tough, confident, and has a no-nonsense attitude. Holly Fields plays Mary, the quiet and shy member of the group. She is in love with Angie's brother and hopes to find him in Oregon. Jenny Lewis plays Laura, the rebel of the group. She is confident, impulsive, and takes risks. The three actresses give convincing performances and have excellent chemistry, making the audience care about their characters and their journey. The movie deals with several important themes such as friendship, independence, and growing up. It also addresses issues related to women's rights and the different roles that women were expected to play in the 1950s. The film portrays the struggles and challenges faced by young women who wanted to break free from traditional gender roles and societal expectations. The film's director, Joe Dante, is known for his work on several successful movies such as Gremlins and The 'Burbs. His directing style is engaging and fast-paced, making the film an entertaining watch. The movie's soundtrack also adds to the 1950s ambiance, featuring classic songs from the era such as "Rock Around the Clock" by Bill Haley and the Comets. Overall, Runaway Daughters is a fun and heartwarming movie that manages to balance comedy and drama effectively. The film's themes of friendship, independence, and growing up are relevant even today, making it a timeless movie. The three actresses deliver strong performances and make the audience care about their characters. If you're looking for a feel-good movie with a 1950s twist, Runaway Daughters is definitely worth checking out.