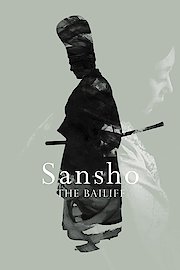 Watch Sansho the Bailiff
"A film of unparalleled beauty by the great Japanese Master Kenji Mizoguchi"
NR
1954
2 hr 4 min
96
Sansho the Bailiff, or Sansho Dayu, is a Japanese period drama from 1954 and is adapted from a short story by Mori Ogai. The film takes place during the Heian Era of Japan's governance and sees a kind governor being exiled to a far-off province. When his spouse and their two children try to reunite, they become separated after a conman tricks and enslaves them; while the mother is sold off to one area, the children are sent off to a slave camp. Whether the kids will survive or lose their humanity and empathy is for the audience to witness.