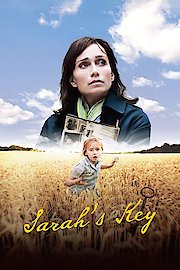 Watch Sarah's Key
"Uncover the mystery."
PG-13
2011
1 hr 51 min
59
Sarah's Key tells the story of a dark part of France's history. While most people are aware of the Jewish Holocaust during World War II, few have heard of The Velodrome d'hiver round up in July of 1942 in France. During these two days, 13,000 Jewish men, women and children were arrested and brought to Paris's arena, the Velodrome. Here, after being forced to live in deplorable, filthy conditions, they were put on trucks and shipped to Auschwitz and other death camps. Most shocking about this point in history was the fact that the arrests were carried out by the French police.
Sarah's Key, starring Kristin Scott Thomas and Aidan Quinn, tells the story of an expatriated American woman living in Paris. Her husband has been renovating his grandmother's home for his family. Julia (Thomas) soon learns of the family that lived in the apartment in 1942 and that family's daughter, Sarah. Sarah's family is Jewish and is involved in the round up. Young Sarah carries with her a key that holds a very dark secret from the police.
Sarah's Key follows dual story lines of what happened to Sarah and her key in 1942 and Julia's search, in 2009, for what truly happened in her new home. In February of 2009 France finally recognized its role in the deportation of 76,000 Jews to concentration camps during the war. In 1995 then French President Jacques Chirac had this to say about the atrocities: "These dark days sully our nation's history forever. 74 trains left for Auschwitz. 76,000 Jews were deported from France and never came back. Yes the criminal madness of the Occupier was, as we all know abetted by French citizens, abetted by the French state." Sarah's Key takes an important piece of tragic French history and makes it real for a country that had pushed this story into the darkness of ashamed silence.
Sarah's Key is a 2011 drama with a runtime of 1 hour and 51 minutes. It has received moderate reviews from critics and viewers, who have given it an IMDb score of 7.5 and a MetaScore of 59.