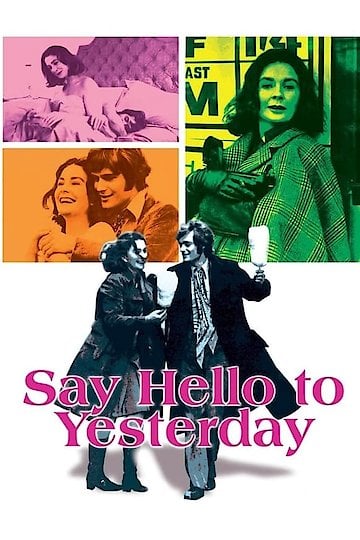 Watch Say Hello to Yesterday
"She was yesterday. He was today. There are moments when everyone is the same age."
Say Hello to Yesterday is a romantic drama film from 1971 that revolves around an age gap relationship between a middle-aged woman and a much younger man. The film stars Jean Simmons as Katherine, a successful businesswoman who has been married for fifteen years to a man who consistently neglects her emotional needs. Leonard Whiting portrays Paul, a charming and handsome young man who becomes infatuated with Katherine after a chance encounter on a train.
Katherine is initially resistant to Paul's romantic overtures, but she begins to see him as a source of emotional fulfillment that she has been missing in her marriage. As their relationship intensifies, Katherine must contend with the judgment of her friends and family, as well as her own fears of rejection and abandonment. Meanwhile, Paul struggles with his own anxieties about the future and whether they have a chance of building a life together.
One of the most intriguing aspects of Say Hello to Yesterday is the way it handles the dynamics of power between Katherine and Paul. Although Katherine is considerably older and more experienced, Paul exerts a seductive charisma that often puts her on the defensive. Throughout the film, both characters grapple with questions of agency, control, and vulnerability, and the tension between them is palpable.
The film also explores themes of loneliness, regret, and personal growth. We see Katherine wrestling with the choices she has made in her life and wondering whether she is capable of finding true happiness. Paul, on the other hand, is struggling to find his place in the world and grappling with the pressures of adulthood. Their relationship becomes a means for both of them to confront their inner demons and begin to find a sense of fulfillment.
The performances in Say Hello to Yesterday are uniformly excellent. Jean Simmons brings a nuanced and sympathetic portrayal to Katherine, imbuing her with a complexity that is both touching and frustrating. Leonard Whiting, fresh off his star-making turn in Franco Zeffirelli's Romeo and Juliet, is as charming and magnetic as ever. The chemistry between the two leads is electric, and their scenes together are some of the film's most memorable.
Supporting performances are also strong, with Evelyn Laye as Katherine's mother-in-law and Liane Aukin as Katherine's closest friend. Their reactions to Katherine's relationship with Paul provide a stark contrast to the central romance and underscore the societal norms that Katherine is defying. The film also features beautiful cinematography by Brian West, which captures the lush settings and beautiful architecture of London and the English countryside.
Overall, Say Hello to Yesterday is a poignant and engaging exploration of a controversial subject. It doesn't shy away from the challenges and emotional complexities of an age gap relationship, but it also avoids moralizing or simplifying the issues at play. Instead, it presents a thoughtful and nuanced portrayal of two people trying to build a meaningful connection in a world that often seems determined to keep them apart.