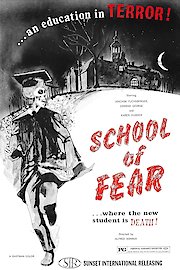 Watch School Of Fear
"Can this medical madman be stopped?"
NR
1977
1 hr 31 min
This is a movie with a cartoon quality. There are a group of students, including Madeline and Theo, who don't want summer vacation to start. They have to attend the School of Fear where they must face some of their phobias. If they don't get over the phobias that they have in six short weeks, then they will discover what fear is when school begins again in the fall.
School Of Fear is a 1977 drama with a runtime of 1 hour and 31 minutes. It has received mostly positive reviews from critics and viewers, who have given it an IMDb score of 6.5.