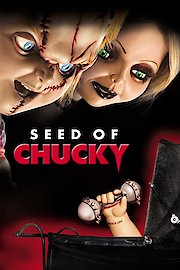 Watch Seed of Chucky
"Time to raise some hell."
R
2004
1 hr 33 min
46
Seed of Chucky is a 2004 dark comedy horror film that was directed by Don Mancini, who also wrote the screenplay. It is the fifth installment in the Child's Play franchise, and it marks the first time that Chucky's offspring, Glen and Glenda, are introduced. Jennifer Tilly reprises her role as Tiffany, Chucky's former girlfriend, while Brad Dourif returns as the voice of Chucky. The film also features appearances by filmmaker John Waters and actress Hannah Spearritt. The film begins with Glen, a ventriloquist dummy, watching a news report about the making of a horror movie based on the exploits of Chucky and Tiffany. Glen is horrified by the violence he sees, and he begins to question the nature of his parents' existence. He decides to track down Chucky and Tiffany, who are currently residing in Hollywood as a pair of prop dolls. Once he finds them, Glen uses a magical amulet to bring them back to life. At first, Chucky and Tiffany are thrilled to be alive again, but they soon realize that they are trapped in their doll bodies once more. They decide to take revenge on the filmmakers who have portrayed them as villains in their movie. Meanwhile, Glen is struggling with his identity, as he is both a boy and a girl, and he doesn't know which gender he identifies with. As Chucky and Tiffany wreak havoc on the set of the movie, they begin to bicker over whether or not they should have a child. Tiffany is eager to become a mother, while Chucky is more hesitant due to the risks involved. Eventually, Tiffany finds a way to impregnate herself artificially, and she gives birth to twins: a boy named Glen and a girl named Glenda. The rest of the film revolves around Glen and Glenda trying to come to terms with their bizarre family and their own identities. Glen is horrified by the violence his parents perpetrate, while Glenda is seduced by the power that comes with being a killer. Meanwhile, Chucky and Tiffany's relationship deteriorates even further, as they both struggle with their own personal demons. Seed of Chucky is a darkly comedic horror film that is both entertaining and disturbing. It skewers the horror movie genre while also being a part of it, and it features some truly bizarre and shocking moments. The performances by Jennifer Tilly and Brad Dourif are top-notch, and the addition of John Waters to the cast is a stroke of genius. Although it may not be for everyone, Seed of Chucky is a unique and memorable entry in the horror canon.