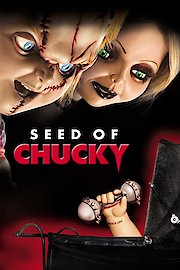 Watch Seed of Chucky
"Time to raise some hell."
R
2004
1 hr 33 min
46
Seed of Chucky is about an evil doll who is possessed by a serial killer, by his side is his insane bride tiffany who is also trapped inside a doll. Chucky and Tiffany both have a son glen who got separated at birth and is now trapped but later escapes. Chucky and his wife try to be human again, while Glen does not want to disappoint his parents, and Tiffany and Chucky try to juggle being parents and killers at the same time. Chucky and Tiffany want to become human again they're tired of being dolls so they try to kill a couple to get out of the doll life. This is going to be a long journey and will not be easily done, there will be plenty of bloody, nasty, and scary moments as Chucky and Tiffany try to find a couple they want to be. With parents like Chucky and Tiffany glen doesn't know who he is at all, whether he wants to be like his dad Chucky or to be different and just be nice to people. Glen also doesn't know whether he wants to be a girl or a boy he be a girl because his mother wanted a girl but then his dad Chucky wants to him to be a boy the son he never had, Glenn is so confused he wants to please both of his parents and doesn't want to disappoint anyone. Even that Chucky is a feared serial killer he still tries to be a father to his sons glen. Chucky takes glen on a killing spree for some father and son time together. Chucky wants glen to be a traditional killer like his father, because that's what Chucky thinks men are supposed to do. Tiffany thinks it should be glens decision to whether he wants to kill or not either way she still loves him. Tiffany is torn between the two of being a killer or to be normal and stop killing people for fun, but Chucky wants her to keep doing it. Tiffany wants to stop because she has a child now and wants to be a good role model for her son Glen. Seed of Chucky definitely makes the doll illusion come to life. Turning a doll into a killer with a sick wife, and a mislead confused child, with humor, suspense, and plenty of mind blowing events seed of Chucky is a must see thriller movie.