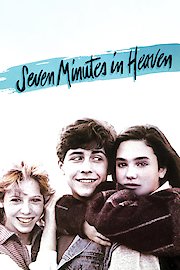 Watch Seven Minutes in Heaven
"When you're fifteen, being in love is more than just..."
PG-13
1985
1 hr 28 min
This film is about three teenagers and the funny problems they have to deal with being best friends. The main character is a young boy who lives with a girl but they are just friends. The girl he likes is in love with a famous baseball player who lives in New York. The film is full of funny moments that have to deal with all the awkward situations found in teenage romance. The girl tries to meet up with the famous baseball player but finds he is out of her reach. The boy awkwardly tries to win the attention of the girl he likes but ends up embarrassing himself.