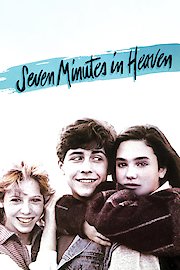 Watch Seven Minutes in Heaven
"When you're fifteen, being in love is more than just..."
PG-13
1985
1 hr 28 min
Seven Minutes in Heaven is a coming-of-age drama film from 1986 that explores the complexities of love and relationships in the lives of teenagers. The movie is a tender portrayal of teenage angst and the struggle to find oneself in a world where everything seems to be changing too quickly. The film opens with the end of the school year, and we see four friends, played by Jennifer Connelly, Byron Thames, Maddie Corman, and Alan Boyce, playing a game of truth or dare at a party. The game leads to a kiss between Natalie (Connelly) and her longtime crush, Jeff (Thames), that changes everything. As the summer begins, Natalie, Jeff, Polly (Corman), and Bill (Boyce) all deal with the complexities of their evolving relationships. Natalie, who has never had a boyfriend, struggles to come to terms with her feelings for Jeff, while Jeff is hesitant to commit to a relationship. Polly, for her part, is dealing with a long-distance relationship with her boyfriend, and Bill is trying to come to terms with his own sexuality. The movie follows the four friends over the course of the summer as they navigate their romantic entanglements and learn more about themselves and each other. It is an emotional journey, filled with ups and downs, that ultimately makes them realize that the only way to figure out who they are and what they want is to take chances and trust their hearts. Director Linda Feferman creates a mood of languid nostalgia, infusing the film with a sense of longing that perfectly captures the experience of adolescence. The cinematography is gorgeous, capturing the warmth and beauty of summertime in a way that invites the viewer to get lost in the story. The cast is excellent, with Jennifer Connelly delivering a standout performance as Natalie. She perfectly captures the uncertainty and vulnerability of a teenage girl on the cusp of adulthood, and her chemistry with Thames is palpable. Thames, for his part, brings a sense of depth and complexity to his role, portraying Jeff with a quiet intensity that makes him a compelling character. Maddie Corman, as Polly, brings a lightness and humor to the film, while Alan Boyce's portrayal of Bill is poignant and heartfelt. The supporting cast is equally strong, with standout performances from Marshall Bell as Polly's father and Drew Barrymore in a small but memorable role as a neighborhood girl. The film's themes of love, loss, and self-discovery are universal, making it a relatable and heartfelt story that resonates with audiences of all ages. It is a film about the power of friendship, the importance of taking risks, and the beauty of embracing who you truly are. Overall, Seven Minutes in Heaven is a beautifully crafted film that captures the essence of the teenage experience with sensitivity and authenticity. It is a must-see for anyone who has ever been young and in love, and a testament to the enduring power of friendship and self-discovery.