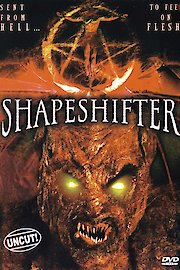 Watch Shapeshifter
R
2005
1 hr 21 min
Shapeshifter (2005) is a suspenseful horror movie that tells the story of a young woman who discovers a supernatural ability to transform into a werewolf during the full moon. Jennifer Lee Wiggins leads the cast as Laura, a biotech engineer who's been haunted since childhood by dreams of turning into a wolf. Along with her doctor boyfriend Raul (Chris Facey) and best friend Tanya (Ocean Marciano), Laura begins to unravel the mystery of her true identity and the dark forces that threaten to control her.
The plot opens with Laura struggling to advance in her career at a biotech laboratory in Philadelphia. She's desperate to distance herself from her troubled past, having lost both of her parents to a mysterious car accident when she was younger. After experiencing a series of bizarre symptoms, including heightened senses and intense mood swings, Laura realizes that she's transforming into a werewolf. Confused and scared, she turns to Raul for help, hoping that he can provide a medical explanation for her condition.
Together, Laura and Raul embark on a dangerous journey to uncover the truth about her ancestry and the biotech company she works for. Along the way, they encounter various supernatural entities, including a pack of vicious werewolves who want to recruit Laura into their fold. With Tanya's assistance, the trio uncovers a sinister plot to create a new breed of werewolves using genetic engineering. Laura's condition turns out to be the result of a botched experiment, and she must navigate her newfound powers while attempting to stop the evil biotech company from achieving their nefarious goals.
Shapeshifter is a well-paced horror movie that blends elements of science fiction and supernatural lore. The film boasts impressive practical effects and makeup, with several tense action sequences that showcase Wiggins' physical ability as an actress. Her transformation into a werewolf is both startling and impressive, and the filmmakers wisely limit the number of times it occurs to maintain its impact. The supporting cast is also strong, with Marciano providing comic relief and Facey delivering a convincing turn as the dedicated doctor.
Director Gregory Lemkin effectively uses mood lighting and eerie sound design to enhance the film's spooky atmosphere. The scenes set in the biotech lab are particularly well-executed, with sterile white walls and muted tones juxtaposing Laura's increasingly animalistic behavior. The movie's final act is tense and unpredictable, with several twists that keep the viewer engaged until the closing credits.
In terms of themes, Shapeshifter explores the dangers of unchecked scientific experimentation and the morality of genetic engineering. The film's villainous biotech company represents the greed and ambition that drive some scientists to push beyond ethical boundaries. Additionally, Laura's journey towards self-discovery and acceptance can be read as a metaphor for the struggles of identity and self-acceptance faced by marginalized groups.
Overall, Shapeshifter (2005) is a satisfyingly spooky horror movie that delivers both thrills and chills. The film's blend of science fiction and werewolf mythology is refreshing, and the talented cast and crew elevate the story to make it more than just a simple monster movie. Fans of the horror genre will find plenty to enjoy in this tense and suspenseful flick.
Shapeshifter is a 2005 horror movie with a runtime of 1 hour and 21 minutes. It has received poor reviews from critics and viewers, who have given it an IMDb score of 2.5.