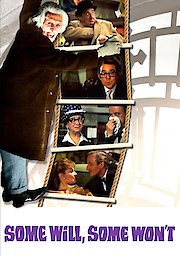 Watch Some Will, Some Won't
1970
1 hr 27 min
Some Will, Some Won't is a British comedy film from 1970. Directed by Duncan Wood and starring well-known British actors such as Ronnie Corbett, Thora Hird, and Michael Hordern, this film is a delightful romp through the English countryside with a cast of eccentric characters and their madcap misadventures. The story centers on a wealthy businessman named Henry Russell (played by Hordern), who undergoes a medical examination and discovers that his heart is in poor condition. Afraid that he may die soon, Russell decides to offer a large sum of money to four people from his hometown of Middletown, on the condition that they fulfill certain tasks. If they succeed, they will inherit Russell's fortune; if not, the money will go to charity.
The four chosen for the challenge are a doctor named James Dawson (played by Corbett), a retired schoolteacher named Alice Gilpin (Hird), a grumpy local councilman named Henry Allardyce (played by Leslie Phillips), and a shady businessman named Simon Russell (played by Michael Hordern's real-life son, Edward).
Each of the four must complete a task that is tailored to their particular skills or interests. Dawson, for example, must make a convincing sales pitch for a miracle drug, despite his lack of confidence in the product. Gilpin must organize a successful children's concert, even though she is out of touch with modern music. Allardyce must curtail his own power-hungry tendencies and persuade a group of eccentric villagers to agree on a common goal. And Simon Russell must outsmart a group of thieves who seek to take advantage of his greed.
As the four characters embark on their quests, they encounter a whole host of colorful locals, from a group of militant cyclists to a donkey-riding magician. Along the way, they must overcome various obstacles and challenges, including a stormy night in the middle of nowhere, a stolen car, and a particularly stubborn cow.
The film is a classic example of British humor, showcasing a mix of dry wit, slapstick comedy, and gentle satire. The performances by the talented cast are excellent, particularly Hird as the determined Alice Gilpin and Corbett as the bumbling but lovable Dr. Dawson. Each of the four protagonists is flawed in their own way, which makes their personal growth and eventual success all the more satisfying.
The film is also notable for its beautiful scenery, as much of it was shot on location in the picturesque English countryside. The sweeping views of rolling fields and quaint villages add to the film's charm and serve as a backdrop for many of its most memorable scenes.
Overall, Some Will, Some Won't is a delightful and uplifting film that is sure to put a smile on the faces of viewers young and old. Its timeless humor and lovable characters make it a true British classic that deserves to be rediscovered by a new generation of film fans.