Watch Star Wars Episode III: Revenge of the Sith
"The saga is complete."
The third part of the notorious space epic details the final stages of Anakin Skywalker's life before his cross into the Dark Side. The Galactic Republic has been seriously debilitated during the Clone Wars. Anakin and Obi-Wan Kenobi are about to infiltrate General Grievous's ship to rescue Chancellor Palpatine, where they are caught in a lightsaber duel with Count Dooku, who Anakin kills. When Grievous flees, the two Jedi crash-land the ship on Coruscant, where Anakin sees his pregnant wife Padmé Amida. Despite a premonition that she will die in labor, he is happy to see her.
Palpatine decides to put Anakin on the Jedi Council as his representative, but Anakin is denied Jedi Master and is instead assigned to track Palpatine. Just as he starts to lose faith in the Jedi Council, he discovers that Palpatine is Sith Lord Darth Sidious. Though he reports the treason to Jedi Master Mace Windu, he then helps Sidious to defeat him. In return, Darth Sidious makes Anakin his apprentice, renaming him Darth Vader. Knowing that the Dark Side has power to prevent death, this appeals to Anakin's desperation to save his wife. Darth Sidious commands the Clone Troopers to kill their Jedi Masters, and sends a small troop of them with Vader to kill everyone at the Jedi Temple as well as the Separatists. Then Sidious renames the Republic the Galactic Empire, and declares himself Emperor.
When Obi-Wan and Yoda learn of Anakin's betrayal, they split up to find both him and Darth Sidious, taking Padmé with them, who won't be convinced he isn't still good. A struggle between Obi-Wan and Vader leaves Vader crippled and left for dead, though he is later revived and rebuilt cybernetically by Darth Sidious. While Vader is overseeing the construction of the Death Star, Padmé dies bearing twins Luke and Leia. The twins are separated, Luke to Tattooine and Leia to Alderaan, where they are raised separately.
|
2005
|
2 hr 20 min
|

/

10
Cast

Studio

Director

George Lucas

Language

English
Star Wars Episode III: Revenge of the Sith News
'Star Wars' Bloopers Storm YouTube (Video)
October 29, 2013 @ 8:59 am PST
|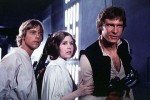 Obi-Wan Kenobi seemed infallible in "Star Wars: Episode IV," but a recently discovered blooper reel from that original film shows that even the noble Obi-Wan could mess up a scene now and then. The reel, which has been floating around for months, is currently getting lots of media attention.
Read More

Walt Disney Buys LucasFilm
November 01, 2012 @ 6:16 pm PST
|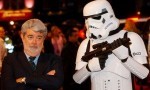 George Lucas has signed over his company to Walt Disney Studios, who promises to bring more "Star Wars" to the big screen... Is this good news or bad news?
Read More

Mark Hamill, Harrison Ford, and Carrie Fisher to Return to 'Star Wars'?
March 08, 2013 @ 1:32 pm PST
|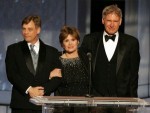 "Star Wars" fans, you can rest easy. Your favorite heroes are "pretty much" back for the upcoming "Star Wars: Episode VII". But what about Billy Dee Williams?
Read More

Know Who Should've Been Darth Vader? Samuel L. Jackson
May 24, 2012 @ 9:10 am PST
|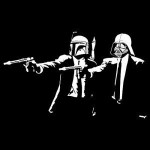 He's tired of these muthaf***kin' rebels on his muthaf***kin' Death Star! Some questions are best left unasked. Others, we wonder why nobody ever asked before. For all of George Lucas' needless tinkering, why didn't he of all people ever think of redubbing Darth Vader dialogue with Samuel L. Jackson's greatest films quotes?
Read More


Watch Star Wars Episode III: Revenge of the Sith Trailer

Watch Star Wars Episode III: Revenge of the Sith Online - Watch online anytime anywhere: Stream, Buy, Rent
Star Wars Episode III: Revenge of the Sith is currently available to watch and stream, buy, rent on demand at Amazon, Vudu, Google Play, YouTube VOD, iTunes online.