Watch Star Wars Episode II: Attack of the Clones
"A Jedi Shall Not Know Anger. Nor Hatred. Nor Love."
The second film in the prequel trilogy for the legendary Star Wars franchise is a dramatic special effects extravaganza, full of light-saber action, epic battles, and high-concept space opera which generations of fans have come to adore. Ten years after the Trade Federation's failure to take control of Alderaan, Senator Amidala, the former child-leader of Naboo has become for reasons beyond her knowledge a high-profile target for bounty hunters. Stepping in to protect her from further attacks after her decoy his tragically killed are her former guardians and friends: the Jedi Knight Obi-Wan Kenobi, and his padawan apprentice, Anakin Skywalker.
Under orders not only to protect Amidala but to discern the nature of her attackers, the two quickly become embroiled in a deep conspiracy that extends far deeper into their own Jedi Order than they expected. Further complicating matters, Anakin, rumored to be chosen by the force to bring balance to the universe, is lured from his monkish order and loyalty to his master by his own lust for Amidala and incorrigible ambition to become a fully fledged Jedi Knight. In the absence of his master, Anakin allows his ego to be further soothed and enhanced by the scheming Senator Palpatine.
Elsewhere in the Galaxy, former Jedi Knight Count Dooku, following direction from the same mysterious Sith Lord who trained the deadly Darth Maul and orchestrated the Trade Federation blockade of Naboo a decade ago, is organizing a coup of star systems to defect from the Galactic Senate, threatening to destroy the peaceful republic and surge the galaxy into a brutal civil war.
Mysteriously, just as the Galactic Senate is deeply in need of a grand army to preserve the union, one appears. In his search for Jango Fett, the bounty hunter responsible for the latest attack on Amidala's life, Obi-Wan stumbles across Genosia, a planet constructing a grand army of clones of Jango for a secret order given by a long dead Jedi Knight.
With the stage set for total war, it is up to the dysfunctional pair of Jedi Knights not only to rescue Amidala, but to prevent the galaxy from plunging into a chaotic confrontation.
|
2002
|
2 hr 22 min
|

/

10
Cast

Studio

Director

George Lucas

Language

English
Star Wars Episode II: Attack of the Clones News
'Star Wars' Bloopers Storm YouTube (Video)
October 29, 2013 @ 8:59 am PST
|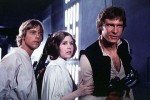 Obi-Wan Kenobi seemed infallible in "Star Wars: Episode IV," but a recently discovered blooper reel from that original film shows that even the noble Obi-Wan could mess up a scene now and then. The reel, which has been floating around for months, is currently getting lots of media attention.
Read More

The Force is Strong with Disney: 'Star Wars' Standalone Films Confirmed
February 06, 2013 @ 7:19 am PST
|
Read More

Mark Hamill, Harrison Ford, and Carrie Fisher to Return to 'Star Wars'?
March 08, 2013 @ 1:32 pm PST
|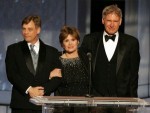 "Star Wars" fans, you can rest easy. Your favorite heroes are "pretty much" back for the upcoming "Star Wars: Episode VII". But what about Billy Dee Williams?
Read More

Know Who Should've Been Darth Vader? Samuel L. Jackson
May 24, 2012 @ 9:10 am PST
|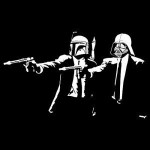 He's tired of these muthaf***kin' rebels on his muthaf***kin' Death Star! Some questions are best left unasked. Others, we wonder why nobody ever asked before. For all of George Lucas' needless tinkering, why didn't he of all people ever think of redubbing Darth Vader dialogue with Samuel L. Jackson's greatest films quotes?
Read More


Watch Star Wars Episode II: Attack of the Clones Trailer

Star Wars: Attack of the Clones|1:08
Episode II: Attack of the Clones: Trailer - Star Wars|2:31
Watch Star Wars Episode II: Attack of the Clones Online - Watch online anytime anywhere: Stream, Buy, Rent
Star Wars Episode II: Attack of the Clones is currently available to watch and stream, buy, rent on demand at Amazon, Vudu, Google Play, YouTube VOD, iTunes online.